Cool Music For Geeky People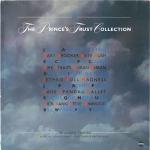 The Prince's Trust Collection!
October 30, 2013 4:00pm
This 2-LP Compilation released in 1985 (as seen on TV! it says in the lower right corner) says it contains prime tracks by "the cream of British rock" and the money gathered from sales was supposed to go to a trust devoted to "exploring ways in which young people who felt alienated in our modern society might be encouraged to help themselves." Lofty goals indeed. Some decent music too, although tracks by the likes of BILL WYMAN, JIMMY PAGE and ROBERT PLANT seem pretty bloated and gratuitous compared to the new wave sounds of KATE BUSH, MADNESS, and even (gasp!) DURAN DURAN. Creamy Brit-Rock for you, fellow music geeks!