Cool Music For Geeky People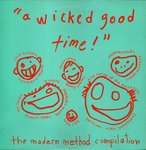 A Wicked Good Time!
November 13, 2013 4:00pm
Back in the 1980s, Boston was a locus for great indie-rock (before it was even widely known as indie-rock). Bands like MISSION OF BURMA blasted out a raw but intelligent sound across the nation. Modern Method Records put out several fine compilations documenting the Boston sound of the time, and the first Wicked Good Time comp will be featured on this GE episode, with the likes of LA PESTE, BOYS LIFE, and YOUNG SNAKES (before they became 'TIL TUESDAY) strutting their stuff. More sounds from 30+ years ago, fellow music geeks!