Radio Valencia, San Francisco Community Radio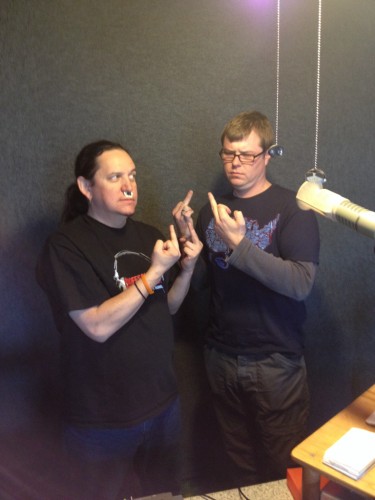 Malderor and Dr. Junk -The End Of An Era
February 2, 2014 2:00pm
It's Dr. Junk's last show before he moves to Portland. Malderor celebrates by staying up all night DJing at Bootie, and showing up super hungover. So it's business as usual then. (For those who might be concerned, we'll be Skyping Dr. Junk in from Oregon once he gets settled in.)

2:01pm: Ballad For My One True Love by Mason Jennings

2:05pm: A.M. Sixty by We Belong Together

2:08pm: The Luckiest by Ben Folds

2:19pm: This Is A Trent Reznor Song by Unknown

2:19pm: Wretch by Blood Red Shoes

2:21pm: Black Don't Glow by Bass Drum Of Death

2:27pm: It's What You Do by Orgone

2:33pm: Keep On Dubbing by Agustus Pablo

2:36pm: You're Going To Make Me Lonely When You Go by Bob Dylan

2:42pm: Stay Useless by Cloud Nothings

2:45pm: I 'm A Man by Jobriath

2:48pm: Been Drinking Again by Le Plebe

2:55pm: Leave Them All Behind by Ride

2:59pm: Love Will Tear Us Apart by Joy Division

3:02pm: Farewell Transmission by Songs: Ohia

3:13pm: Don Henley Must Die by Mojo Nixon

3:16pm: We Shall Overcome by Frank Turner

3:19pm: I Wanna Get Out Of Here But I Can't Take You Anywhere by Ming City Rockers

3:23pm: Happy When It Rains by Jesus and Mary Chain

3:25pm: Lost Boys and Girls Club by Dum Dum Girls

3:32pm: Punk Rock Song (German Version) by bad Religion S.A.T. Word Of The Week

3:34pm: Never Say Die by The Old Firm Casuals

3:37pm: Dress Well, Drink Heavily by 45 Adapters

3:43pm: 23 by Blonde Redhead

3:48pm: Planet Telex by Radiohead

3:52pm: Where Is My Mind? by Pixies

3:54pm: I Got Your Number by Cock Sparrer

4:05pm: return to normal schedule.