Genre mashing at it's finest.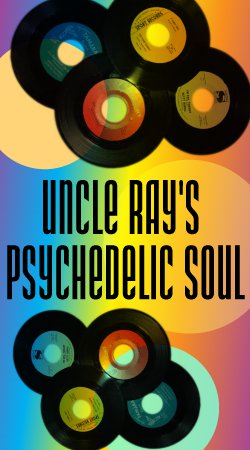 Uncle Ray's Psychedelic Soul episode 3, Superbowl edition.
February 3, 2014 8:00am
Episode 3, Superbowl Edition
brought to you by Senior Soul

00:00:35 MC Honkey "It's a Good Day To Be You"
00:04:10 Senior Soul/ Phillip Seymour Hoffman @ Lester Bangs in Almost Famous
00:05:45 Announcements
00:08:58 Aretha Frnklin "I Never Loved a Man The Way I Love You"
00:11:36 Evie Sands "I Can't Let Go"
00:13:52 The Pretenders "Cuban Slide"
00:18:20 URPS bumper /Announcements
00:18:49 N.E.R.D. "Dont Worry About It"
00:22:30 Nikka Costa "Without Love"
00:26:42 The Pointer Sisters "Automatic"
00:31:20 Psychotic Reaction "Senior Soul" & "It's Your Thing" / Announcements
00:34:12 Amy Winehouse "Half Time"
00:38:00 URPS bumper
00:38:16 Missy Elliot " Work It"
00:42:35 Lisa Lisa & Cult Jam "I Wonder if I Take you Home"
00:48:10 Phillip Seymore Hoffman in "The Big Labowski"
00:50:00 Announcements
00:53:20 Q-Tip "Getting Up"
00:56:45 Shuggie Otis Information/Inspiration
1:oo:45 URPS bumper
1:01:08 Gil Scott Heron " Lady Day & John Coltrane"
1:04:40 Prince "Computer Blue"
1:08:35 Announcements
1:10:45 The Bangles "Hero Takes a Fall"
1:13:4o The Monkees "She Hangs Out"
1:16:12 Steam "Na Na Na Na, Kiss Him Goodbye"
1:20:00 Kelly Stoltz "Rock and Roll With Me"
1:23:20 Love "My Flash on You"
1:25:25 Announcements
1:29:00 Sly Stone Productions "Honest"
1:31:35 Sly & The Family Stone "I Cannot Make It"
1:35:20 Announcements
1:35:40 Funkadelic "Can You Get To That"
1:38:25 The 5th Dimension "Stoned Stoned Picnic"
1:41:48 Dr. John "Gris Gris Gumbo"
1:47:25 Announcements/ Scream For Peace Promo
1:49:44 Jimmy Cliff "Many Rivers to Cross"
1:52:40 Ken Boothe "That's the Way Nature Planned It"
1:55:40 Al Wilson "Show & Tell"