starring Dr. Hal !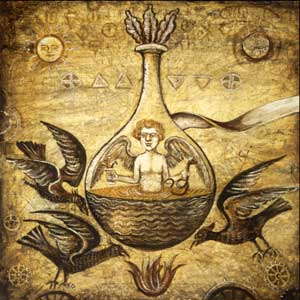 THE ALCHEMIST'S COMPLAINT
December 18, 2015 10:00pm
Creating the Great Work, one process at a time, we distill a Show Homunculus which works for some, if not all. And the visitors come in; Lord, how they come in. This includes the beauteous Sarah Szczechowicz Goldie and Miss Katy Bell. The latter, though she never really seemed to cotton to the fact that there was an attempt to do an audio performance going on, did speak into the microphone once or twice and, as a bonus, may be heard muttering in the b.g. at other times. Michael Peppe provided the philosophico-scientific underpinnings of this episode for the most part, right up until the official end. But was it the end? After an interval of the music of Raymond Scott, we left the Studio with the indefatigable KrOB in charge. NOTE TO FANS: For reasons best known to himself, Chicken John Rinaldi has cancelled all the live shows we were going to do in the next month.