Genre mashing at it's finest.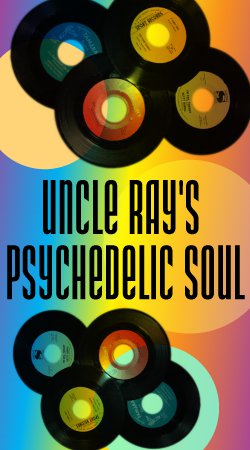 Episode # 80, 45s and plenty of them.
December 28, 2015 10:00am
Soul 45s in this Think Tank Edition of Uncle Ray's Psychedelic Soul

10:04am: Uncle Ray's Psychedelic Soul

Enchantment by Corrine Bailey Rae Live from home, playing a bunch of old soul 45s!

10:11am: Mary Jane by Rick James

10:15am: Stanger by Little Sister

10:15am: Funky John by Johnny Cameron & the Camerons

10:21am: I Was Made To :ove Her by Stevie Wonder

10:28am: Love Land by Charles Write & The Watts 103rd St Rhythm Band

10:30am: Gossip by Cyrril Neville

10:31am: Little Love Affair by Patrinell Sisters

10:35am: Don't Throw Your Love Away by Gene Washington & The Ironsides

10:43am: Shame Shame Shame by Sherlie & Co

10:44am: Dance to the Music (Live Fillmore East) by Sly & The Family Stone

10:48am: Pop Your Baloon by Beastie Boys

10:52am: Sweet Tooth by The Selves

10:56am: Gangster Of Love by Jimmy Norman

10:59am: Changes by Charles Bradley

11:03am: Same Beat by the JBs

11:05am: Ready Or Not by J5

11:10am: Pass the Dutchie by Musical Youth

11:14am: Take it Off by Jimmy Tolbert and De Thangs

11:17am: Fairchild by Willie West

11:24am: You & I by Rick James

11:27am: I Can't Get Next To You by Al Green

11:33am: Ca' Ba' Dab by Soul Swingers

11:37am: Pee Foul by Nite Lighters

11:49am: What You Can Do In Your Life by Petalouda

11:49am: Hung Up (Unplugged 45) by MC Honky

11:52am: Sci Fi Wassabi by Cibbo Matto

11:54am: Jazz (We Got The) by A Tribe Called Quest

New Jersey transplant and SF music veteran Uncle Ray blends Rare Groove, Power Pop, Funk, 60's Psychedelia, Hip Hop, Acid Jazz, R&B, Reggae, and Top 40 into a unique and eclectic groove to help get you going on Monday mornings.