starring Dr. Hal !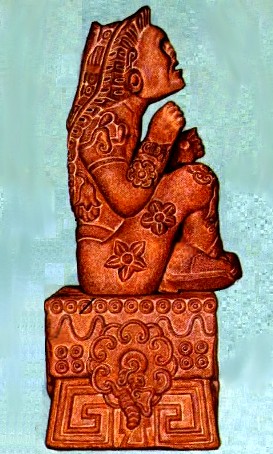 XOCHIPILLI'S FRIENDS & VOTARIES
February 12, 2016 10:00pm
One of our best shows, but... with 48 minutes remaining, we found ourselves suddenly without power in the studio. Something happened-- who knows what? We're always at the mercy of infernal devices opaque to understanding. Perhaps a guest moved his foot and altered the spaghetti tangle of wires and hookups under the desk. Puzzling Evidence worked tirelessly to restore power, but in vain. Dr. H. Owll then re-booted the computer-- out the window. No, seriously, he did try a re-boot-- and yes, the whole shebang did come back online-- what do you know? --but too late to do us any good. Still, up until that point when all audio ceased, one of our most interesting and informative shows, moving from Victor Frankenstein's Undying Monster, with Count Dracula also getting his oar in, on to ordinarily little-heard subject matter, including aspects of Mesoamerican history and ethnobotany. Not to mention the Sacred Toad, Lord Bufo alvarius... Guests were our friend Jett, visiting filmmaker Oliver Quitanilla, who discussed his new movie LITTLE SAINTS: EAT A MUSHROOM, TALK TO GOD, and, providentially, the well-informed artist David Normal. What a symposium on secret magic and cryptic botany! And going great guns, too, until the idiot machines abruptly rung down the curtain. Well, enjoy it for two hours and twelve minutes, anyway.