starring Dr. Hal !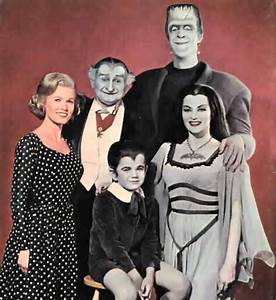 AT HOME WITH THE MUNSTERS
September 23, 2016 10:00pm
We begin tonight's episode with a visit to that distinctive house at 1313 Mockingbird Lane. Did you know that "The Munsters" theme music had lyrics? Hear them here. Dr. H. Owll is received by, and briefly visits, Herman and Lily, with a side trip to "Grandpa's" underground laboratory. The family's dragon-ish pet, Spot, also roars at us when we arrive. Visit is otherwise entirely congenial, but then studio guests appear and prevent its continuance. Maybe another time we'll get to Eddie and Marilyn. Herman shows off his new chair-- built by Westinghouse --with a demonstration, too. Also on tap: Puzzling Evidence and the beauteous Sarah Goldie (nee Szczechowicz), who discuss and dish dirt on various local personalities of note. Yeah, the Addams Family were arguably cooler. But what could possibly be more, well, "American," than being monsters and NOT KNOWING it? Just ask our friends from other countries. With Fred Gwynne, Yvonne DeCarlo, Al Lewis. 3 hours.