starring Dr. Hal !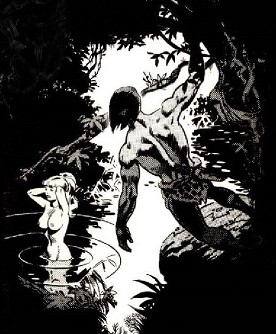 THE ADVENTURES OF TARZAN OF THE APES
May 25, 2018 10:00pm
MORE THAN FOUR AND A HALF HOURS in the Studio, eventually hosting Jett, Puzzling Evidence and Michael Peppe, we touched on multiple subjects with an eye toward X-Day and other onrushing future events. You can't call in. We no longer even have a Studio Phone at RV, by the way, folks, since the practice of taking "on-the-air" calls does not seem viable to most at the station in the "Selfie" Era, or perhaps seems simply passe. But the Chatterbox often appears to fill in for this former link to the simultaneous outside world, and ideally, we are able to respond to requests and suggestions. First part of the show (the first two hours): THE ADVENTURES OF TARZAN. Poems, re-mixes, speculation on subjects literary, folkloric and scientific. The Paleontology Report. Second part of the show (starting around Midnight): CHRISTMAS MORNING as Jett attempts to give away numerous treasures; gift after gift is proffered and, sadly, in some cases refused, since storage space is now so precious in Ron Conway's Baghdad By The Bay...