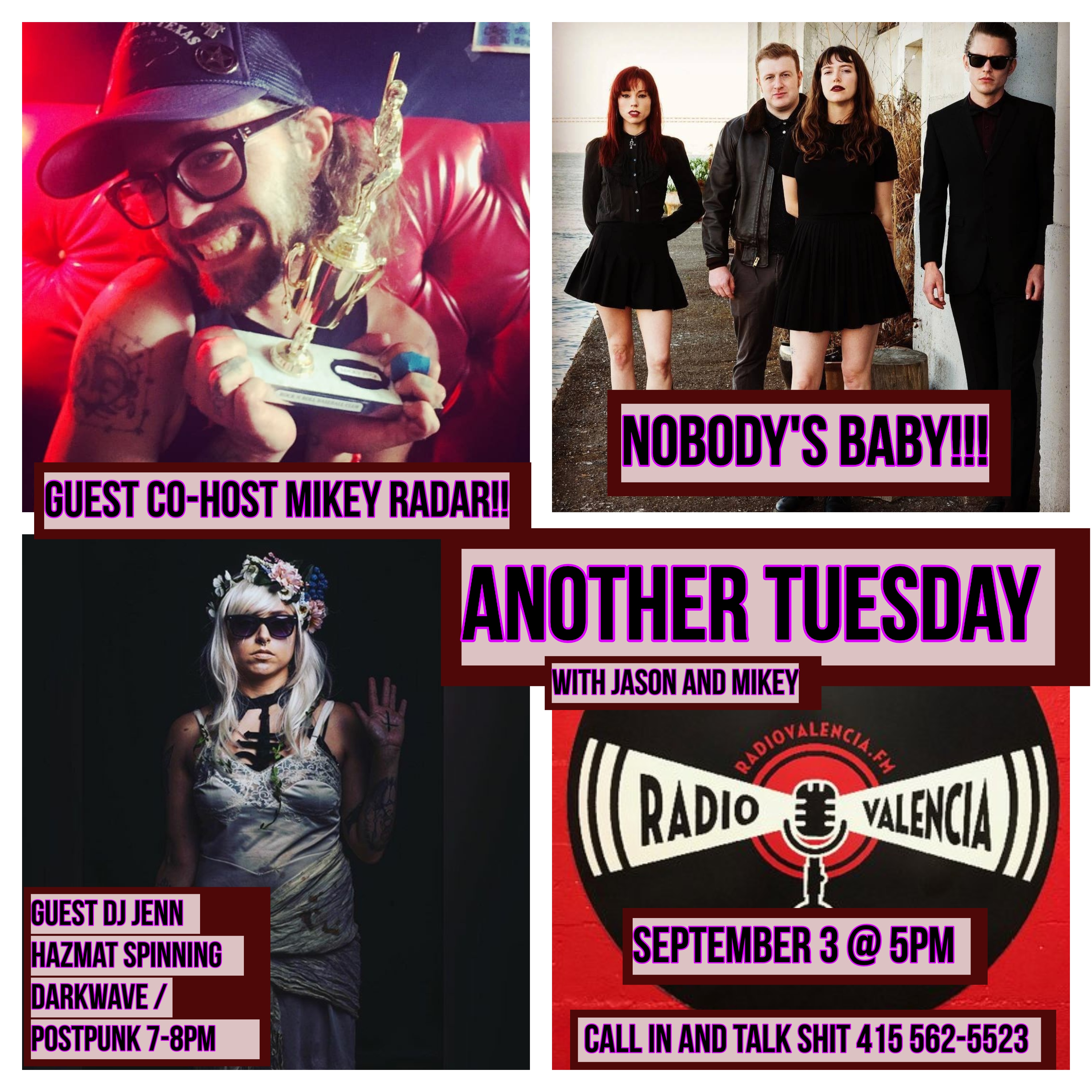 EPISODE 18: HURRICANE MIKEY. PLUS GUEST DJ JENN HAZMAT!!
September 3, 2019 5:00pm
GUESTS MIKEY RADAR AND/OR DANGER OF BLOOD/OUIJA BOREDOM AND PENELOPE OF NOBODY'S BABY/ OUIJA BOREDOM SHOW UP 40 MINUTES LATE AND PLAY SOME RECORDS AND DON'T REALLY LET US INTERVIEW THEM SO THAT WAS FUN. WE CHAT A BIT ABOUT PENELOPE'S DAD'S PUNK BAND, AND WHAT IT'S LIKE BEING IN A BAND WITH A LITERAL CHILD. ALSO GUEST DJ JENN HAZMAT SPINS DARKWAVE AND POSTPUNK FOR THE LAST HOUR! OH THE GRAPHIC I MADE FOR THIS IS KINDA INACCURATE AS MIKEY DIDN'T END UP CO-HOSTING BUT I DON'T FEEL LIKE MAKING A NEW ONE SO THAT'S WHAT YOU GET. (INSERT SHRUGGY EMOJI)
MUSIC BY: MEKANIK KOMMANDO, CRASH COURSE IN SCIENCE, CRASS, FUZZBOX, THE GO-GOS, LENE LOVICH, VOM, THE NUBS, KAS PRODUCT, T-CELLS, TONETTA, NOBODY'S BABY, CAPITOL PUNISHMENT, "ZOMBI HOLOCAUST" SOUNDTRACK, STARLIGHT DESPERATION, UNWOUND, THE BOREDOMS, BITTER FRUIT, MAYYORS
GUEST DJ JENN HAZMAT'S SET: ASYLUM PARTY, LOW LIFE, VR SEX, EGRETS ON ERGOT, MURDERER, THE CHATS, NOCTURNAL PROJECTIONS, SEX PARK, BODY OF LIGHT, ELEVEN POND, MOLCHAT DOMA, PARADE GROUND, MARTIN DUPONT, GLUE, FACE THE RAIL, LOW LIFE. THANKS JENN!!!