with your host Juan Rapido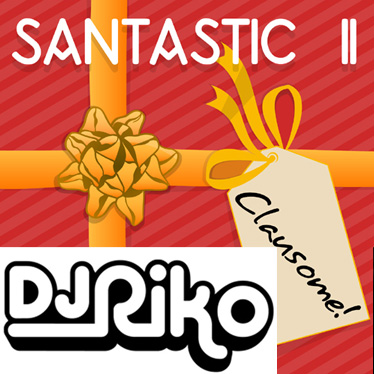 A Very Riko Mixmas, part deux
December 14, 2011 8:00pm
Wherein we feature the very first Merry Mixmas by the great DJ Riko, then begin an Xmas mix from BigCog which gets cut for the second edition of the brilliant semi-annual Holiday/Xmas mash-up/remix complication Santastic II: Clausome.

Your DJ visits with Tony in the "Drinks with Tony / Dante's Hot Tub face-off" in the Tub

Merry Mixmas 2002 by DJ Riko
Track list:
Run DMC - Christmas in Hollis
Clarence Carter - Back Door Santa
Otis Redding - Merry Christmas Baby
Paul McCartney & Wings - Wonderful Christmas Time
The Who - Christmas
Granddaddy - Alan Parsons in a Winter Wonderland
Kurtis Blow - Christmas Rappin'
The Waitresses - Christmas Wrapping
Louis Armstrong - Zat You Santa Claus?
Bobby Helms - Jingle Bell Rock
Lou Monte - Italian Jingle Bells
Jackson 5 - Santa Claus is Comin' to Town
Frank Sinatra - Let it Snow
Dean Martin - Rudolph the Red Nosed Reindeer
Chuck Berry - Run Rudolph Run
The Beatles - Rockin' Around the Christmas Tree
Vince Guaraldi - Linus and Lucy
Jose Feliciano - Feliz Navidad
El Vez - Feliz Navidad
Elvis Presley - Christmas Message
Jimi Hendrix - Christmas Medley

Thumper aka Skippy aka Jimmy the Grip aka Lavender Gripsack takes a dip in the Tub with your host

gladtidings vol. 1 by BigCog
Track list:
1 – Eton College Chapel Choir "The Three Kings"

2 – Berlin Symphony Orchestra "Nutcracker Suite (Baz Kuts Breaks Mix)"

3 – Jose Feliciano "The Christmas Song"

4 – Otis Redding "White Christmas"
5 – Bud Shank Quartet "Let it snow"

6 – Cuba L.A. "God rest ye merry gentlemen"

7 – Nat "King" Cole "Happiest Christmas Tree"

8 – Rosemary Clooney "Winter Wonderland"
9 – Dread Zeppelin "Sleigh Ride"

10 – Bruce Cockburn "Mary had a baby"

11 – Jon Kennedy "Goose is getting fat"

12 – Minnie Riperton & Rotary Connection "Silent Night"

13 – Johnny Cash "Little Drummer Boy"

14 – Andy Williams "It's the most wonderful time of the year (A Shrift Remix)"
15 – Isley Brothers "Isley Christmas Medley"

Ferrara Brain Pan takes a dip in the Tub with your host and we switch mixes to Clausome!

Santastic II: Clausome
1. Jingle Jane - Divide and Kreate
2. Carpenter's Christmas (Karen Meets Roots Radics Uptown) - Go Home Productions
3. Lonely Siberian Winter - DJ John
4. Donde Esta Santa Claus? - Lenlow
5. The Darlene Love Sub-Zero Ecosystem - ATOM

Your DJ visits with Karen Carpenter in the "Dante's Hot Tub / Nose Hait Lint Gland face-off"