Smugglin' diasporadical sounds across borders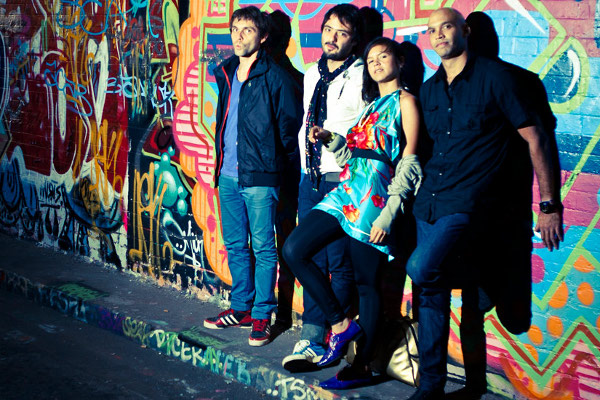 Bomba Estereo
December 14, 2012 2:00pm
This week I feature one of my favorite bands! Coming to you from
Bogota,
I have new music by
Bomba Estereo
from their new album
Elegancia Tropical
.
Comprised of both vocalist
Li Saumet
and bassist
Simon Mejia
,
Bomba Estereo
return with the same raw explosiveness found on their hit album
Blow Up
but with more maturity in sound, songwriting, and concept. In their new work they manage to achieve an almost perfect balance of Afro-Colombian rhythms like
champeta
and
cumbia
with elements of trip-hop, rock, r&b, dancehall, and everything in-between. Now take this sound and top it with the fiery vocals of Li Saumet (whose delivery can be, one minute, so sensual that it's painfully beautiful, then so assertive the next that you can't help but jump around and dance) and you know you've go a winner!
Elegancia Tropical
can be purchased on iTunes or anywhere you buy your music!
While you're here, check out the striking video for the lead single "
El Alma y El Cuerpo
"
Playlist:
Bosque by Bomba Estereo
El Alma y El Cuerpo by Bomba Estereo
Sintiendo by Bomba Estereo
Caribbean Power by Bomba Estereo
Pajaros by Bomba Estereo
Pa' Respirar by Bomba Estereo
Hasa el Techo by ChocQuibTown
Mar y Mente (GFlux remix) by World Hood
Hija de Zion (ft. Goyo) by Voodoo Soul Jah's
Vengo de Panama by Los Rakas
Xororo ft. Russo Passapusso (Uproot Andy remix) by Mago Bo
Rumba (Peligrosa remix) by Shifty ft. Madera Limpia
Dona Sandra (ft. Zuzuka Poderosa) by Orquestra
Platanito by Rita Indiana
Fiebre Tropical by Chucha Santamaria y Utd.
Lapidas y Cocoteros by Violeta Vil
FM tan Sexy by El Guincho
Lido Pimienta vs Modeselektor
Mate a Novio by Leidi Li
El Tigaraso (Sabbo remix) by Maluca
Shock (Captain Planet remix) by Ana Tijoux
Arrastao ft Mixhell by Bonde do Role
Cumbia de la cuesa del nero (GFflux remix ft. Boogat) by Sonido Desconocido II
La Villa Rica (Grita dub remix) by Sonido Desconocido II
No te pongas brava by Spike Devil Disco
Screwmbia by Royal Highness
Dame Lo by Mexicans with Guns
Ke Le Pasa (Alvaro remix) by El Dusty
Mamember by Helado Negro
Karakoram by Mekong
Ciervos by Asro