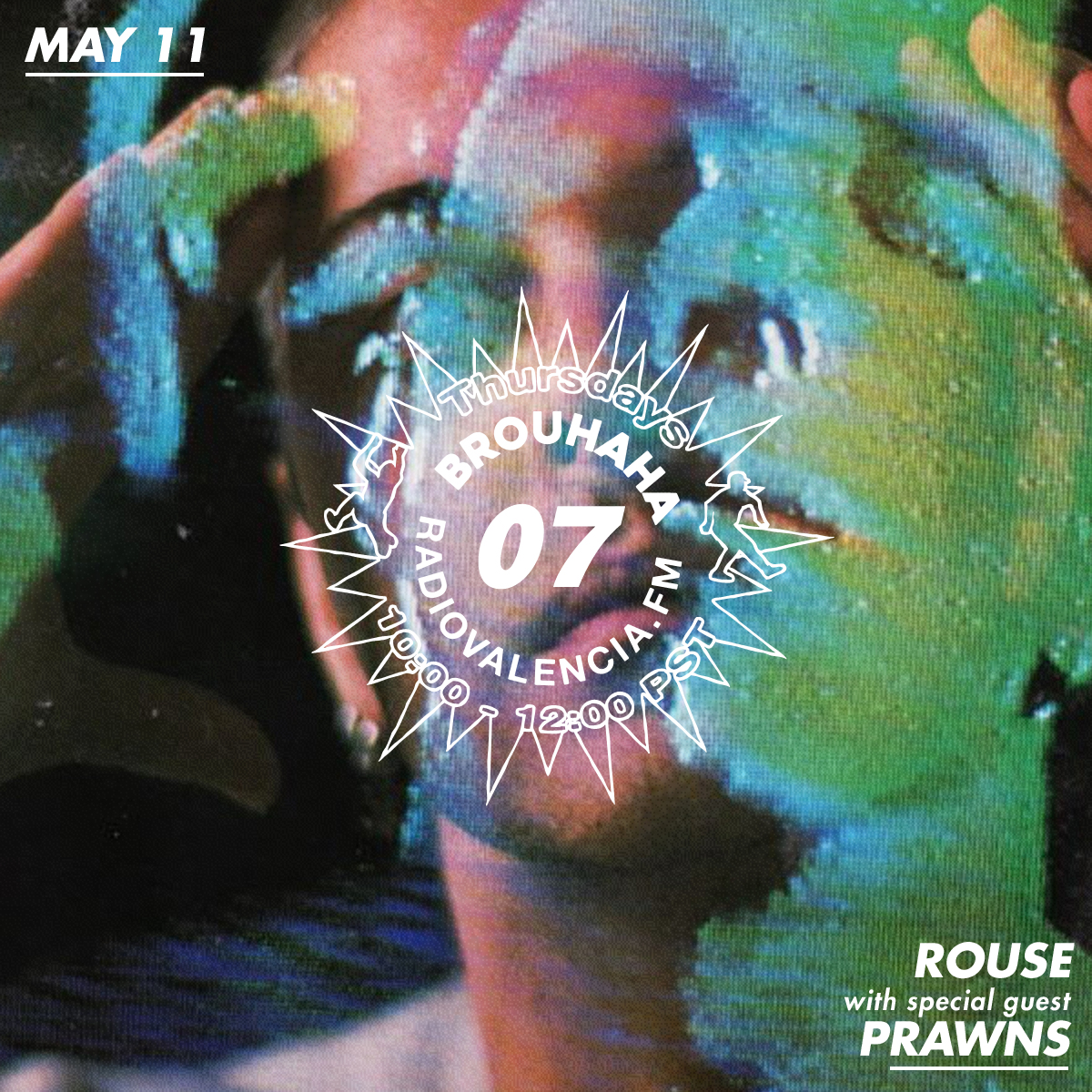 BROUHAHA EP.07 – ROUSE & PRAWNS
May 11, 2017 10:00am
Rouse is plunging into some deep waters this week, and he's brought along the best crustacean DJ we know as co-pilot. You might say he and Prawns take a Heavy Handed approach to this one...

Rouse
Ray of Light 95 - Sage Caswell
State of Mind - Goldie
Breathe - Gaussian Curve
Do Dekor - Jan Jelinek
Sundry - Kaitlyn Aurelia Smith
O-Coast - Overmono
Three Rings - Grizzly Bear
Matariki - LNS
See Yourself - Slacker
Dark Flow (Andres Remix) - Trus'me

Prawns Guest Mix
Lullaby - Urulu
Autumn - Richenel
2poor4change (Hodini remix) - Mr. Fries
Lalime (Dandana mix) - Project Pablo
From a Past Life - Lone
Into the Silly World - Coni
99 Candles - Seven Davis Jr
Repeater - FYI Chris
Clocks - Greymatter
Ar-Ragis (Medlar Remix) - Clap! Clap!
Another One - Fold
Destiny - Interplanetary Criminal
Say It (Baba Stiltz Remix) - Klaves
Worldwide Deluxe Edit - Frits Wentink
Skylark - Ike Release
Fever Dream - Octo Octa
Lefty's Bar (Brame & Hamo) - Fouk
Monk Nash - Rick Sheen
Wopp - Sweely

Rouse B2B Prawns
Get Together (Deep Vocal Mix) - Deep Sensation
Freedom (make it funky) (color 1 on & on strong vocal mix) - black magic
Deal With It - Pendle Watkins
Shoelaces (Acid Instrumental) - Josh Wink
Of All the Places Left to Dance - Tee Mango

---
BROUHAHA EP.06 – DJ PATRICK & WRONG WAY
May 4, 2017 10:00am
DJ Patrick brings Special Xtra guest Wrong Way into the fold, banter ensues. The future present, morning beers, tropical disco, and indescribable oddity contained within.



Shuggie Otis – Freedom Flight
Field Recording #1
Field Recording #2
The Mystic Jungle Tribe – Terraza Sul Mare
Arto Neto – Pini Pini
Salsa Caliente – Meridian Brothers
Manabu Nagayama & Soichi Terada – Walker
Black Booby – I Need Somebody Raw
Some Arthur Russell Edit Heard on a Andrew Weatherall Mix
Alec 'Om' Khaoli – Enjoy It
Mike Francis – Features of Love (Club Mix)
Penny Penny – Shaka Bundu
Bobby Caldwell – Do For Love
Toto – Georgy Peorgy
The Sunburst Band – The Easton Assassin
Plunky & The Oneness Of Juju – Every Way But Loose
Bad Banana – Dancing In San Francisco
Red Snapper – DNI Pro
FCL – It's You (Charles McCloud & Vin Sol Remix)
Unknown Artist – Unknown Track
Wolf Muller – Rudeltanz
Eddie C – La Palette
Ital – Queens
Connie – Funky Lil Beat
Ponzu Island – Super Koto (Andras Fox Mix)
Stone – Girl I Like The way You Move (Dub Mix)

---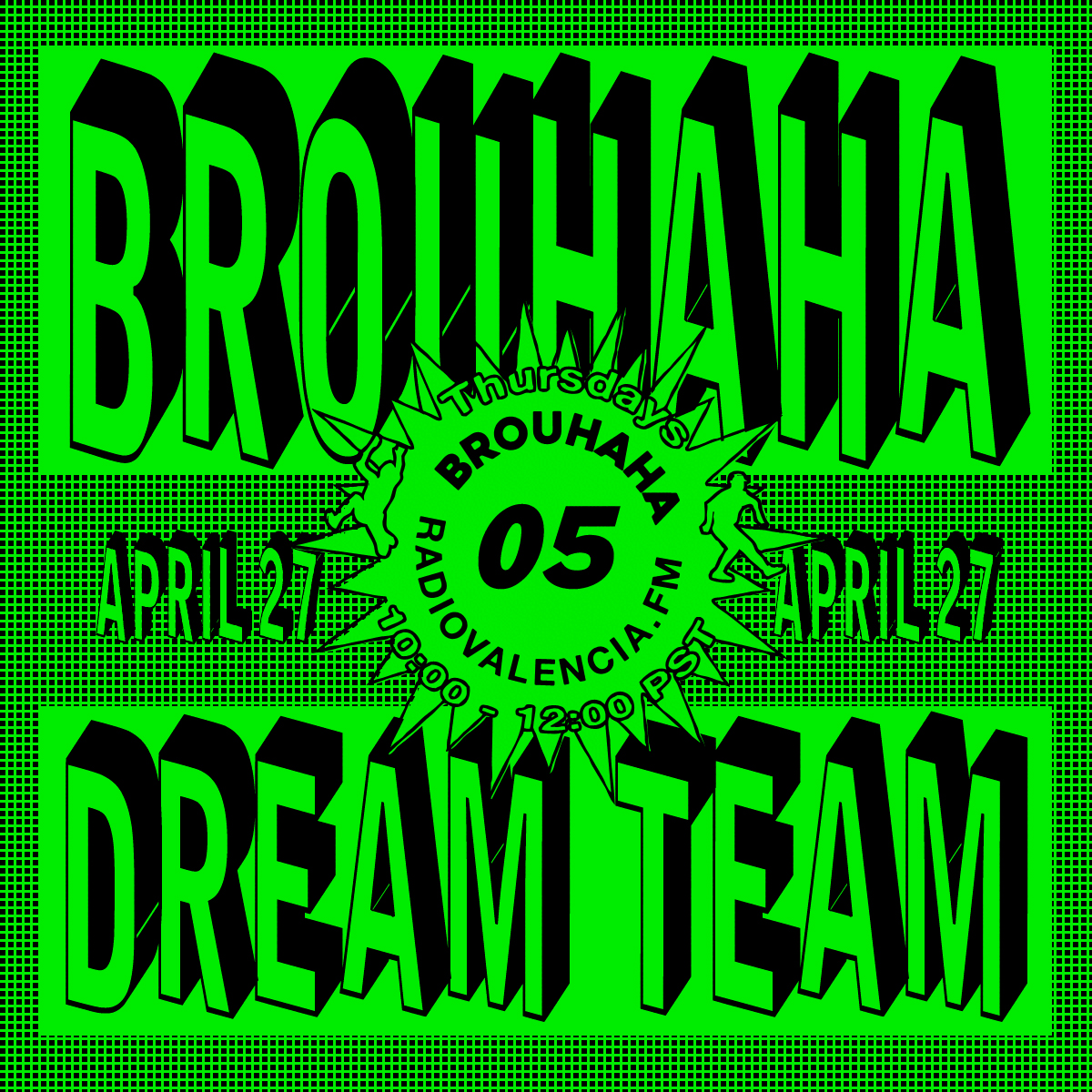 BROUHAHA EP.05 – BROUHAHA DREAM TEAM
April 27, 2017 10:00am
Camdaze, The Disco Volante, & Rouse are going b2b for a special Dream Team episode of your favorite leftfield club radio show. Afro, disco, electro, & acid sounds all thrown up in the most laidback slam dunk contest ever.



Tony Allen – Afro Disco Beat [Vampi Soul]
Pat Thomas – Yesu San Bra [System 77 Productions]
Contours – Loose Wood [Shall Not Fade]
Mystery – Love Dance (Instrumental Dub) [Spirit]
Nuyorican Soul – Mind Fluid (Chemidub) [Nervous]
Tornado Wallace – Kakadu [Music From Memory]
Roza Roza – —————
Sasha – A Key to Heaven for a Heavenly Trance (Night Dubbing Mix) [Limited Underground]
Rhythm Based Lovers – Frequency Illusion [Future Times]
Device Control – Most People [L.I.E.S.]
Eamon Harkin – Are you listening? [Mister Saturday Night]
Ben Houghton – Beta Blocker (Inkswel Drums Dub) [Momentary]
Fatherhood – In Yr Body [Allergy Season]
Hissman – DX Adventure [Dog in the Night]
Fallbeil – The Healer (Innyster Remix) [Mannequin]
Solitary Dancer – Anything [Dark Entries]
DJ Sotofett – Øl på Ibiza [borft]
Lauer – Banned [Live at Robert Johnson]
Groove Assassin – Let's Groove On
Project Pablo – Smudge [Spring Theory]
Michael Claus – Dawn [Jacktone]
Hieroglyphic Being – Azimuthal Equidistant [Mathematics]
Wata Igarishi – Mood of the Machines Pt I [Bunker New York]
Claro Intelecto – Contact [Delsin]
Helena Hauff – c45p [Dark Entries]
Aquarian Motion – The Calling [Voodoo Gold]
Shanti Celeste – Hinoki [Dekmantel]
Mariah – Shinzo No Tobira [Palto Flats]

---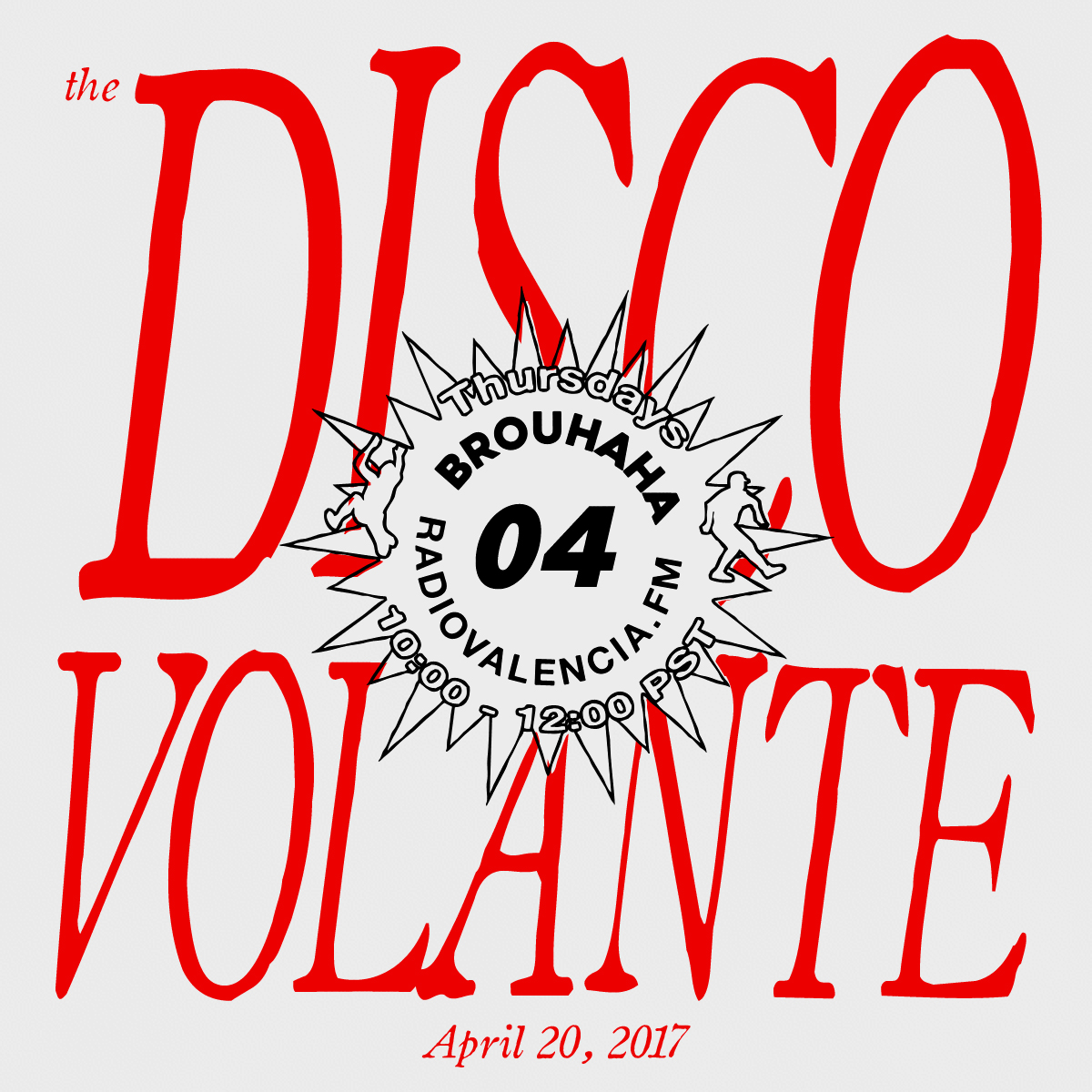 BROUHAHA EP.04 - THE DISCO VOLANTE
April 20, 2017 10:00am
The Disco Volante takes over the controls for a freewheeling space trip through all corners of the Brouhaha cosmos.



Pyrolator – Minimal Tape 3/7.2 [Bureau B]
Jean-Marie Bolangassa – Disna Ngai [Sofrito Super Singles]
Manu Dibango – Soul Fiesta (Chateau Flight Rework) [Versatile]
DJ Katapila – Sakawa [Awesome Tapes From Africa]
Psychemagik – Sun Stepper [Psychemagik]
Anthony Naples – Seello [Proibito]
G String – Seductive Games [Pinkman]
Funky Family – Funky Is On (DV Edit)
Drvg Cvltvre – Meat 3 [New York Haunted]
M & G – When I Let You Down [Dark Entries]
Echo 106 – Choco & Cherry (DV Edit)
DJ Fett Burger – Burger Trip [Mongo Fett]
Jimi Bazzouka – Ye Ye So [Crowdspacer]
OV – Perc Song (Chords) [Future Times]
Russell E.L. Butler – My Cat Is An Asshole [CGI Records]
Michael Claus – Spatial Dub [Neoviolence]
Roy of the Ravers – 2 Late 4 Love [Emotional Response]
5ive & Samo DJ – Some Song Teachers [Public Possession]
Kepler Sound District – Helix [Kepler Sound]
Dego – Could Murder a Burger [Blueberry Records]
Randomer & Hodge – Simple As [Dnuos Ytivil]
Ital – Hellhole [Lovers Rock]
The Durian Brothers – Overexposed Scream Contest [Diskant]
DJ Nervoso – KUIA [Principe]
NHK'Koyxen – 572_2 [PAN]
Matrixxman – Arrival [Dekmantel]
Grauzone – Eisbar (Ilo Edit) [Lo-Fi EdiTS]
Charles Manier – Sift Through Art Collecting People (DV Cut)

---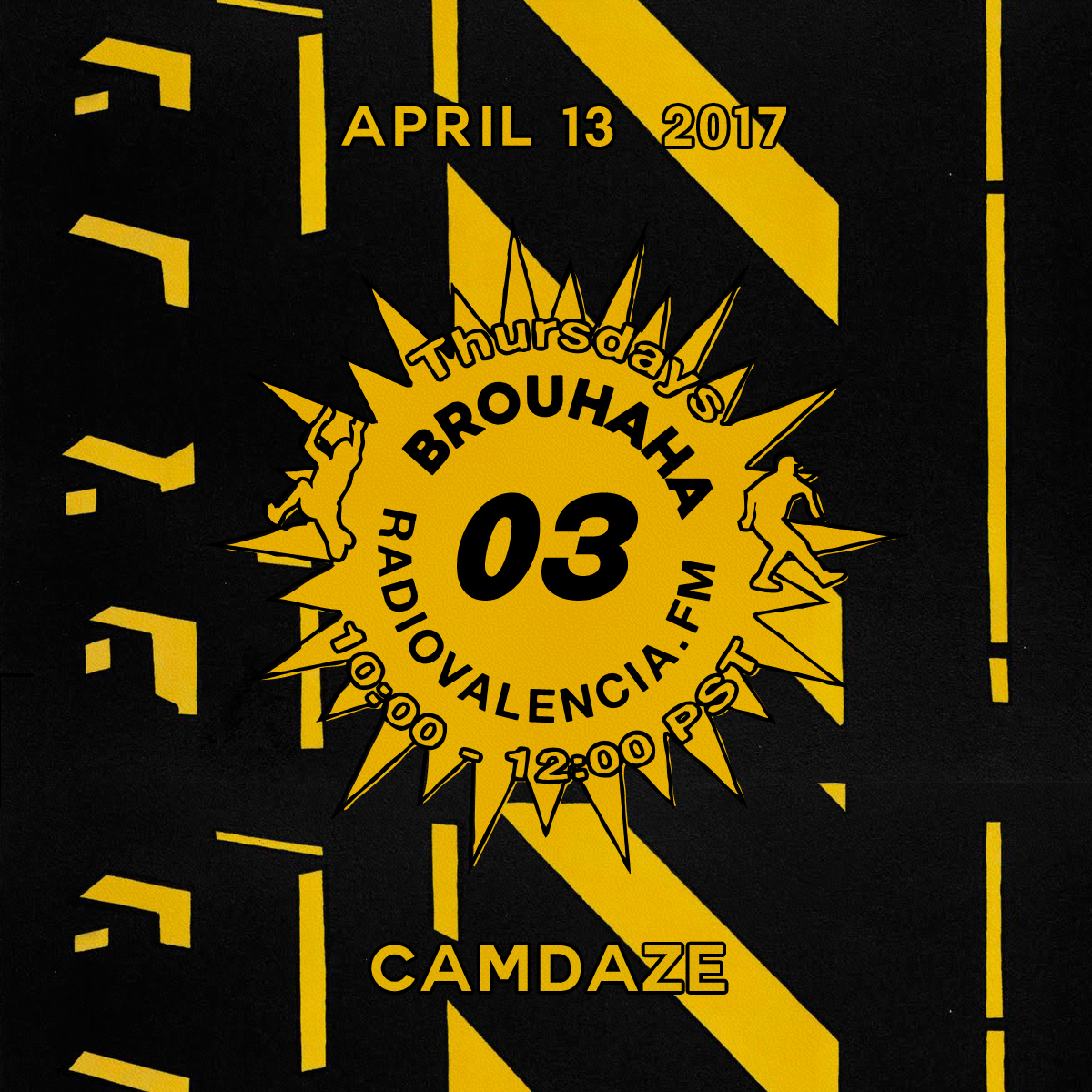 BROUHAHA EP.03 – CAMDAZE
April 13, 2017 10:00am
Camdaze is flying solo this week, guiding us through hazy skies and funky, trippy, organic sounds.

Francis Bebey - Forest Nativity [Hostel La Torre Recordings]
audioJazz - Pretty Lady [audioJazz Music]
Maxmillion Dunbar - Polo [Future Times]
Vin Sol & Matrixxman - Fabric Softener [Soo Wavey]
Cloudface - Devonian Garden [Mood Hut]
Countours - Hands & Feet Dancing [Shall Not Fade]
Masha - The Archivist [S/R]
Serious Intention - You Don't Know (Special Remix) [Easy Street Records]
Gino Soccio - It's Alright (Long Version) [Atlantic]
Kyodai - La Rumba (Genius Of Time Remix) [Freerange Records]
House Of Doors - Burmstar (Flute Mix) [Mood Hut]
Klinte Jones - In The Heat Of The Night [Oh My! Records]
Frits Wentink - Horses In Cornfield [Bobby Donny]
Youandewan - Undrstnd [Hype_LTD]
Youandewan - Our Odyssey [Aus Music]
Sepehr - Outer Space [Neo Violence]
Urulu - Mylar [Kepler Sound]
Garrett David - Remedy [Distant Hawaii]
Seb Wildblood - Mmm [Omena]
FYI Chris - Banana Bread [Lumberjacks In Hell]
Z Lovecraft - 99 Pence Bargain Dub [No Bad Days]
Glenn Astro - Me & My Mouse (Glenn Astro Remix) [Big Bait Records]
Tony Allen - Afro Disco Beat [Vampi Soul]


BROUHAHA on Radio Valencia airs every Thursday, from 10:00am - 12:00pm PST.
Catch the stream on www.radiovalencia.fm!

---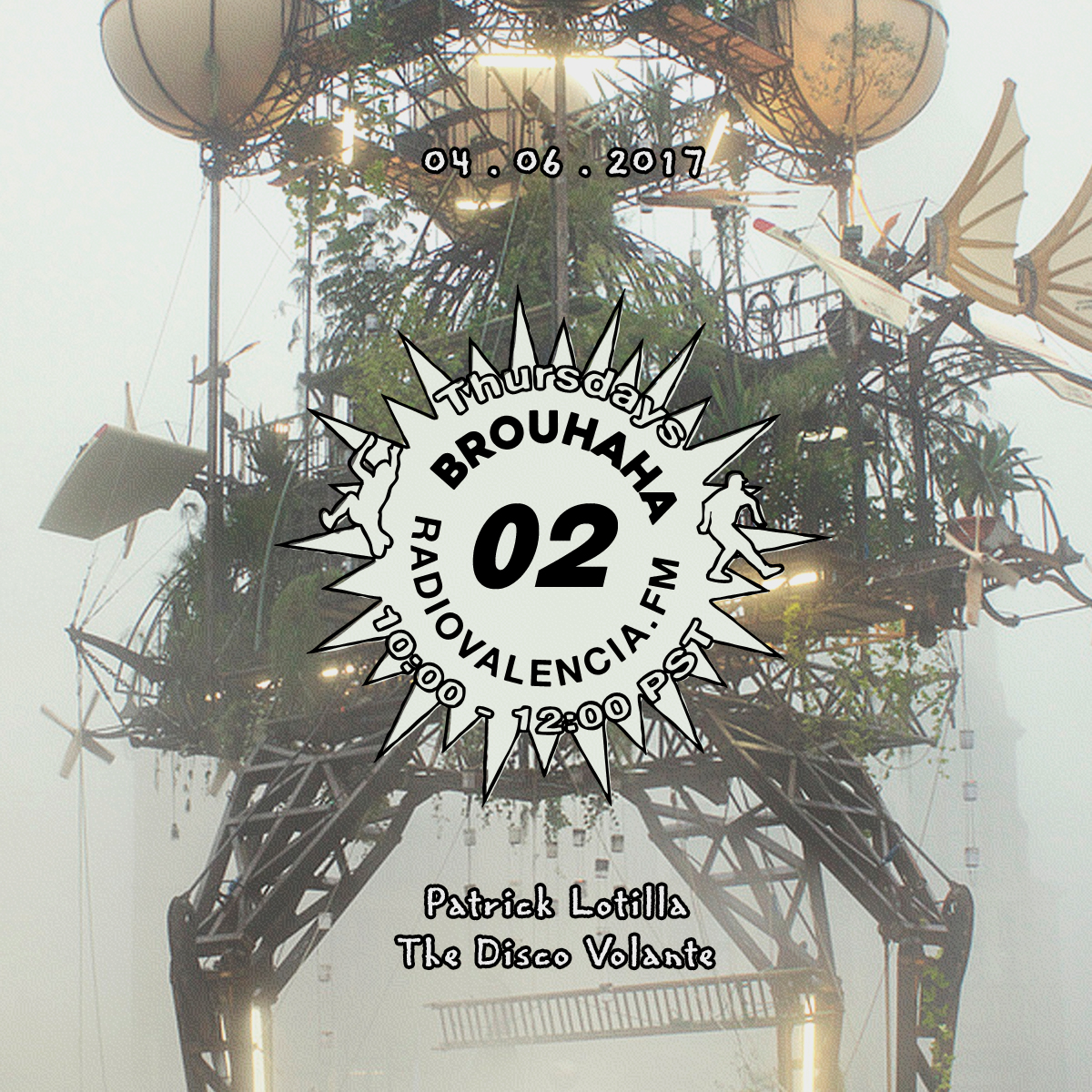 BROUHAHA EP.02 – PATRICK LOTILLA & THE DISCO VOLANTE
April 6, 2017 10:00am
Brouhaha residents Patrick Lotilla and The Disco Volante take over for this week's episode.

First hour DJ Patrick eases some funky disco grooves towards a full-on Paul Johnson megamix.

Second DV takes things into a realm of techno variations.





PATRICK LOTILLA
Helen – Zanzibar (Afro Mix) [Dark Entries]
Fonda Rae – Heobah [Posse]
Persona La Ave – Gloria Miami [Easy Bay]
Al Dobson Jr. – Muscavado Sounds [Rhythm Section International]
Zanzibar Chanel – Ass (Patrick L Edit)
DJML – DDD-2 [FTD]
Michael Claus – Data Retrieval Process [Outpost]
I:cube – Un Proton Pour Toi, Un Neutron Pour Moi [Versatile]
Sage Caswell – Dyc [Spring Theory]
Paul Johnson – Play Those Drums [Warehouse]
Steve Poindexter – Work That Motherfucker (Paul Johnson Remix) [ACV]
Paul Johnson – Love Feeling [Chicago Underground]
Paul Johnson – Let Me See You Butterfly [Dance Mania]
Serge & Alden Tyrell – House Countdown [Clone Jack for Daze]
Paul Johnson – I Like To Get Down [Bosconi]
Mousse T – More I Get [Peppermint Jam]
Chrissy – Can't Get Me Down [Forthcoming Cool Ranch]

THE DISCO VOLANTE
Russell EL Butler – A New Day [CGI Records]
Roche – Sonic Expressions [Mathematics]
Nackt & Michael Claus – Grey Skies [Outpost]
Cocktail Party Effect – Dried Branches [New York Haunted]
Tom VR – A Fantasy [All My Thoughts]
Objekt – Theme From Q [Objekt]
DJ Deep – Surge [Deeply Rooted]
Gunnar Haslam – Scale No Flam [Bunker New York]
Alpha 606 – Armambo DV EDIT
Joe Claussell – Je Ka Jo (Demo Version) [Ibadan]
Aurele – Dinguzer







---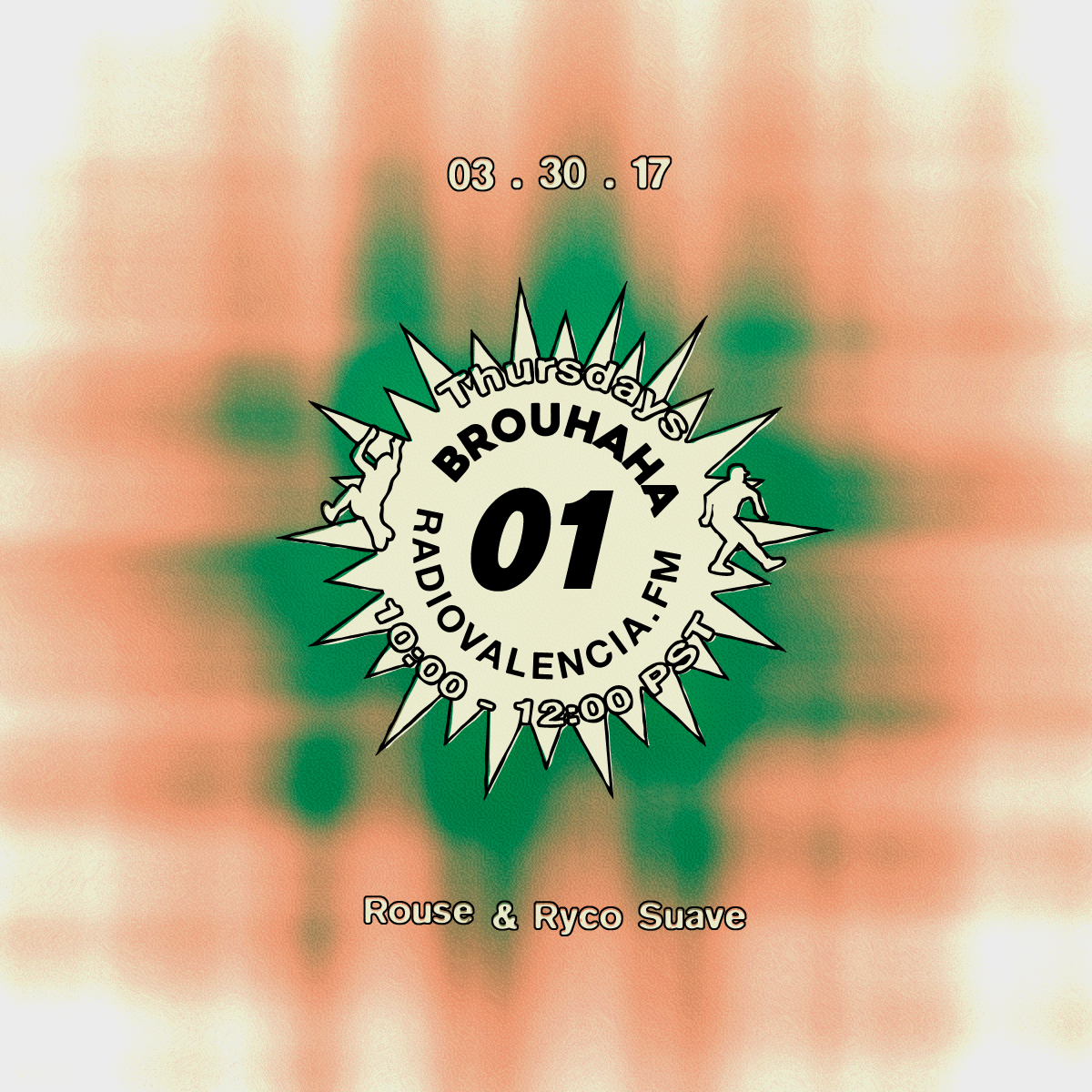 BROUHAHA EP.01 – ROUSE & RYCO SUAVE
March 30, 2017 10:00am
Rouse kicks off the show with a set of ambient techno and padded breaks.

Later on, he leads into Ryco Suave's debut DJ set.

Who is Ryco Suave? Let's just say ya already know.

* * *

ROUSE
Now Now Now – Problem (Abyss Version) [Safe Trip]
Edmondson – Flamingo Tripper [Lissoms]
Sepehr – Outer Space [Neo Violence]
Fantastic Man – Rhythm Algorithm [Superconscious Records]
Look Like – Unknown LQH [Mistress]
Octo Octa – Fleeting Moments of Freedom (Woo) [HNYTRX]
Matrixxman – Bad Acid [Dekmantel]
Nackt & Michael Claus – Grey Skies [Outpost]

RYCO SUAVE
Wayne Snow & Max Graef – Rosie (Nu Guinea's Paradise Remix) [Tartelet Records]
Retrospective for Love – Let me know (Seb Wildblood Remix)
Tom VR – A Fantasy [All My Thoughts]
David & Hjalti – Moods [Lagaffe Tales]
Michael Claus – March 22nd [Jacktone]
Grant – Cliché [Lobster Theremin]
Hi Mount & Man-Dee – Impresionante [Regelbau]
Speed Boat – Speed Tool 001 [Nail Shop]
Bruce Trail – Ruff Cut [Self-Released]
Octo Octa – Move On Let it Go (De-Stress Mix) [HNYTRX]

ROUSE B2B RYCO SUAVE
Electric Sound Broadcast – Sole Eterna [Echovolt Records]
Algorythm – LFO [Neptune]
Strip Steve – Finally a good jam with the new sequencer
Robert Owens and Hugo – You Are (Efdemin remix) [Murmur Records]
Music People – Always On (Club Mix) [Mood Hut]
DJ Groov – Back To [1Ø PILLS MATE]
Qnete – I Might Be Wrong [Lobster Theremin]
Johannes Albert – MS Zufriedenheit [D.KO Records]
Medlar – Imaginary Dub [For Discos Only]
Those guys – Tonite [MCA Records]

---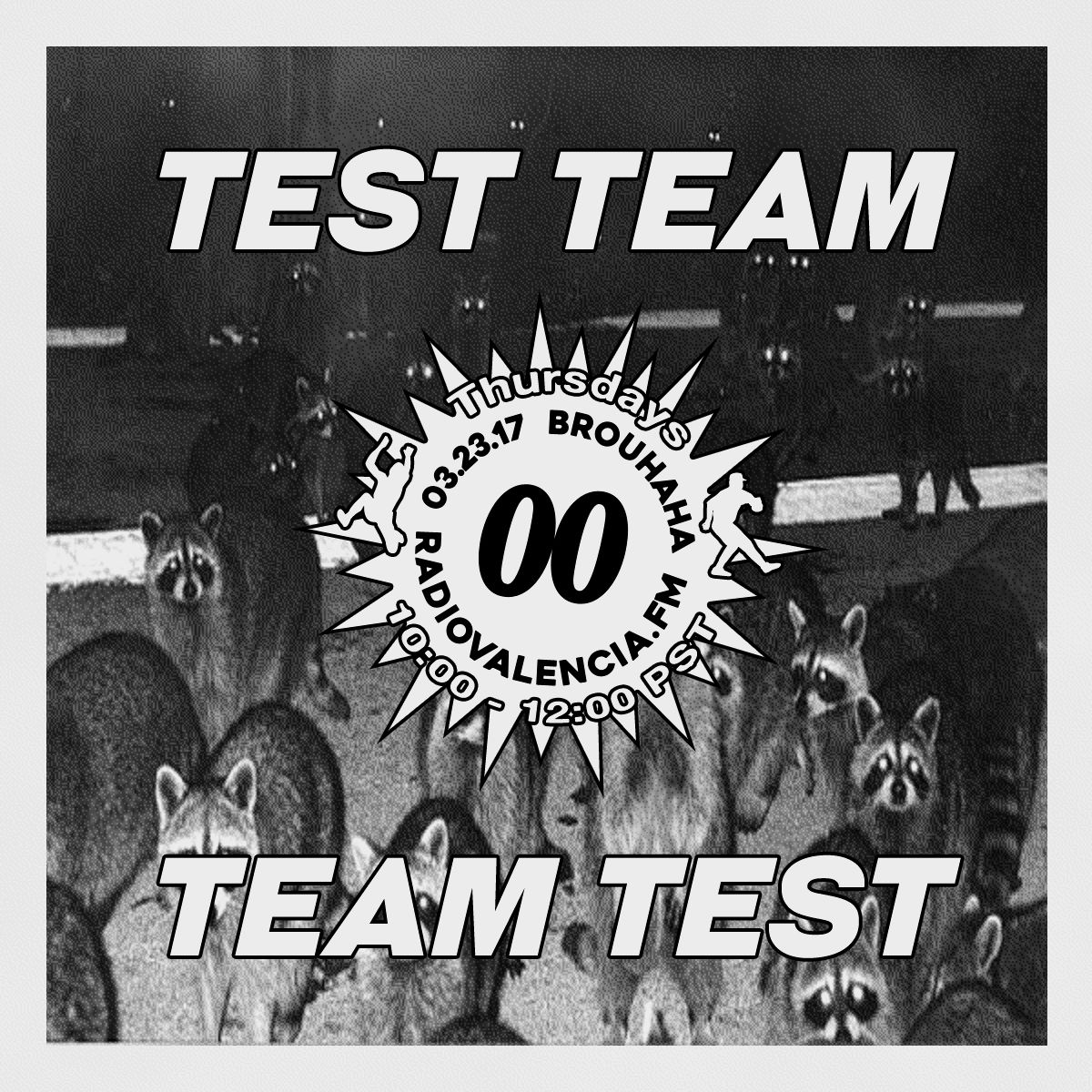 BROUHAHA EP.01 – TEST TEAM
March 23, 2017 10:00am
Right outta the gates, it's a crowded decks crew showdown~!

Brouhaha residents The Disco Volante, Rouse, Camdaze, & Rycta taking turns in the mix.