BROUHAHA EP.13 – CAMDAZE
June 22, 2017 10:00am
Camdaze is fresh off his cross-country tour and direct onto the digital airwaves with a stack of new records. Afrobeat, house, disco, & indie rock are the ingredients in dad's special morning cocktail.

---
BROUHAHA EP.12 - DJ PATRICK & LIL' JOJO
June 15, 2017 10:00am
Special guest Lil' Jo Jo hits the airwaves with a hefty dose of international funk and disco straight off dirty old discs. DJ Patrick gives a taster of the dance madness to come when we have Awesome Tapes From Africa out next week.

Midori Takada – Mr. Henri Rousseau's Dream [Palto Flats]
Codek – Tim Toum [Codek]
The Unknown Cases – Masimbabele (Durian Brothers Remix) [Emotional Especial]
Ritual – Sore Lip (Club Mix) [Warrior]
Angelique Kidjo – Batonga (Jungle Club Mix) [Mango]
Rhythm Club – Acid Rain (Dub) [RCA]
Joe Moks – Boys & Girls [Comb & Razor]
The Ice Cream - Ice Cream Funk [EMI]
Spunk - A Friend Ain't a Friend [Gold Coast]
John Ozila - Funky Boogie [Vogue]
Pino D'Angio - Ma Quale Idea [Killroy]
Esbee Family - Chics and Chicken [Taretone]
Orlando Julius - Disco Hi-Life (2009 Edit) [Hot Casa]
Sammy Massamba - Azali [SM Productions]
Njoroge Benson - Nyinukia [Afro7]
V.O. - Mashisha (Dub) [Invisible City Editions]
Joe Claussell - Je Ka Jo [Ibadan]
Kenix – There's Never Been (No One Like You) [West End]
Emilio Santiago - O Amigo De Nova York [Philips]
Xtasy - Isale Eko [PMG]
Nayanka Bell - Just a Boogie [SIIS]
George Smallwood - You Know I Love You [PPU]
Tomorrow's Children (Peter Curry) - You've Got Me Spinning [Peace]
Rainforest Dub – Rainforest Dub [Intercontinental Interface]
Umoja – 707 [Awesome Tapes from Africa]
Down Downing - Doctor Boogie [RS International]
Yasuko Agawa - LA Nights [HMV]

---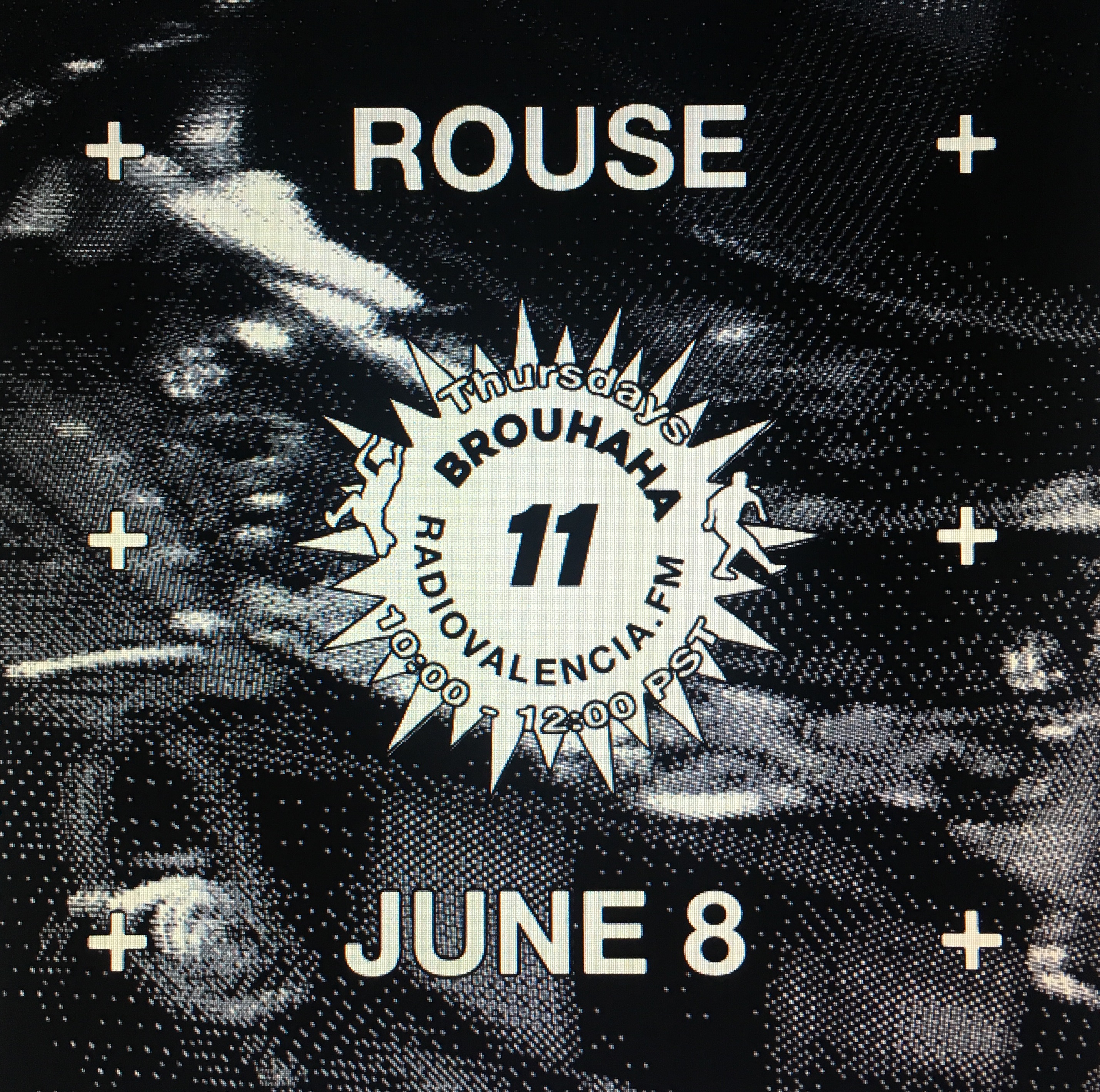 BROUHAHA EP.11 - ROUSE
June 8, 2017 10:00am
Rouse holds down the fort on his own this week. Stay tuned to the middle of the show for a special Marcus Intalex / Trevino tribute mix!

Tracklist

Rouse
The Brouhaha - Beastie Boys [Capitol]
New Window - Khotin [Self-Released]
Feel It Out - Yaeji [GODMODE]
Botanic Jargon - Sage [Tasteful Nudes]
Fantasy - Kasra V [Feelings Worldwide]
Jam From Space Haus - DJ Groov [1Ø PILLS MATE]
Warm For a Long Time - 2 Responsible [ASL Singles Club]
Black Mask - Ibrahim Alfa [Workshop]
Dam Young Sconies - Moodymann [Planet E]
Winskill Dub - Neo Image [Mood Hut]
emoshuns - louie from the club [childsplay]
Backfire - Playin' 4 The City [Plastik People]
Feels - Rick Wade [Shall Not Fade]
Amen To The Lonely - Slacker [Lobster Theremin]

~ Marcus Intalex / Trevino Tribute Mix ~
Love & Happiness - Marcus Intalex & S.T. Files [31]
Temperance - Marcus Intalex [Soul:r]
Universe - Marcus Intalex & S.T. Files [Metalheadz]
Run Away - Calibre & Marcus Intalex feat. Fox [Signature]
Tweakonomics - Trevino [Revolve:r]
Chicago (Trevino Remix) - Mark Force [Transit]
After The Rain - Trevino [Klockworks]
Rainkist (Trevino's Heartbeat Remix) - Dark Sky [Monkeytown]
Mezmerise - Trevino [Birdie]
Playtime - Trevino [Birde]
Ojak - Trevino [17 Steps]
Backtracking - Trevino [The Nothing Special]
Slide Away - Trevino [Hotflush]
Pimlico - Trevino [3024]
Chip - Trevino [3024]
Eclipse - Trevino [Klockworks]

Make Time - Shanti Celeste [Idle Hands]
Na Na Na - DJ Nehpets [Dance Mania]
Woodall 0224 (Simo Cell Remix) - Yaleesa Hall [Will & Ink]

Find us IRL here!
June 13 (& every Tuesday!) – Good4U w/ Chrissy – Madrone Art Bar
June 23 – BROUHAHA w/ Awesome Tapes From Africa – Underground SF
June 24 – Lights Down Low SF ft. Karizma, Galcher Lustwerk, BROUHAHA – Great Northern
July 8 – Heavy Hands & Public Works: Roman Flugel, Project Pablo, Rouse & Prawns – Public Works

Rouse: Soundcloud, Instagram, RA, Heavy Hands

Elsewhere: Facebook, Soundcloud, Instagram, RA

---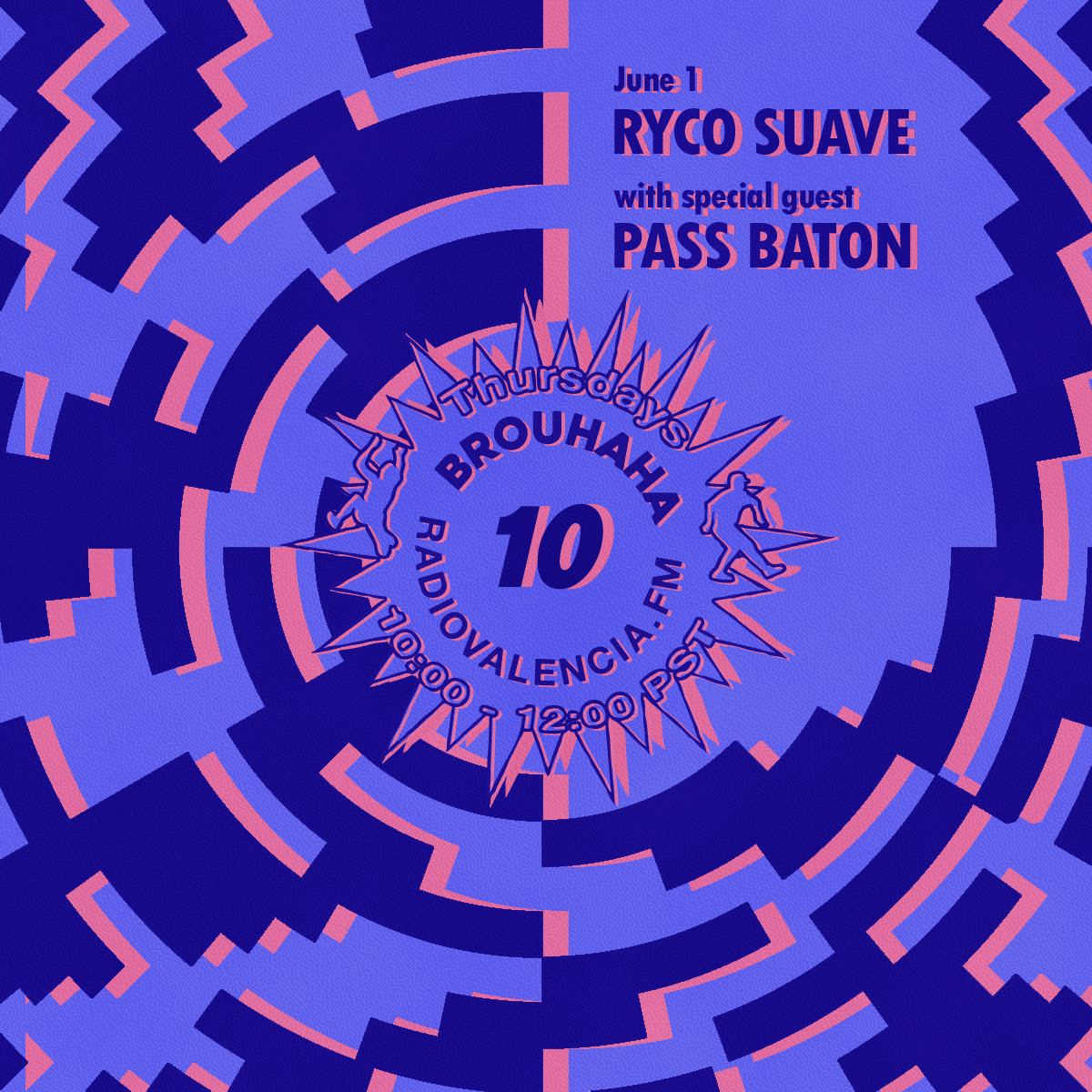 BROUHAHA EP.10 - RYCO SUAVE & PASS BATON
June 1, 2017 10:00am
Ryco Suave
Casino Times - Carlotta (Al Zanders Remix) [ WOLF ]
Royer - d'or22 [ Shall Not Fade ]
Contact Ronnie - Place & Time [ Banoffee Pies ]
Aleqs Notal - This Way [ Sistrum Recordings ]
Project Pablo - Vibrancy Room [ Let's Play House ]
See Other - Waitin' [ Lobster Theremin ]
Jon Sable - Dolphin Hotel [ Tief ]

~ Pass Baton Guest Mix ~
The Spectre - Deep Control [ Fresh 86 ]
DJ Die - Something Special [ V Recordings ]
The Spectre - Tru Believers [ Fresh 86 ]
Krash - Tangle [ Hardleaders ]
Myke - Dubjungle [ Infrabass Jungle ]
Justice & Neil Trix - Mataverse [ Hardleaders ]
Total Science - It's Not Over [ Hardleaders ]
Basic Unit - White Blossom [ Moving Shadow ]
Squarepusher - Port Rhombus [ Warp ]

Ryco Suave B2B Pass Baton
2 Responsible - Write it All Down [ ASL Singles Club ]
Earth Boys - Monkey Business [ Let's Play House ]
Rimbaudian - Drop it On Em [ Media Fury ]
Pass Baton - S.A.F.E [Unreleased]
Fantastic Man - Legoman [ Kitjen ]
Lemme Kno - 1234567 [ UNTHANK ]

---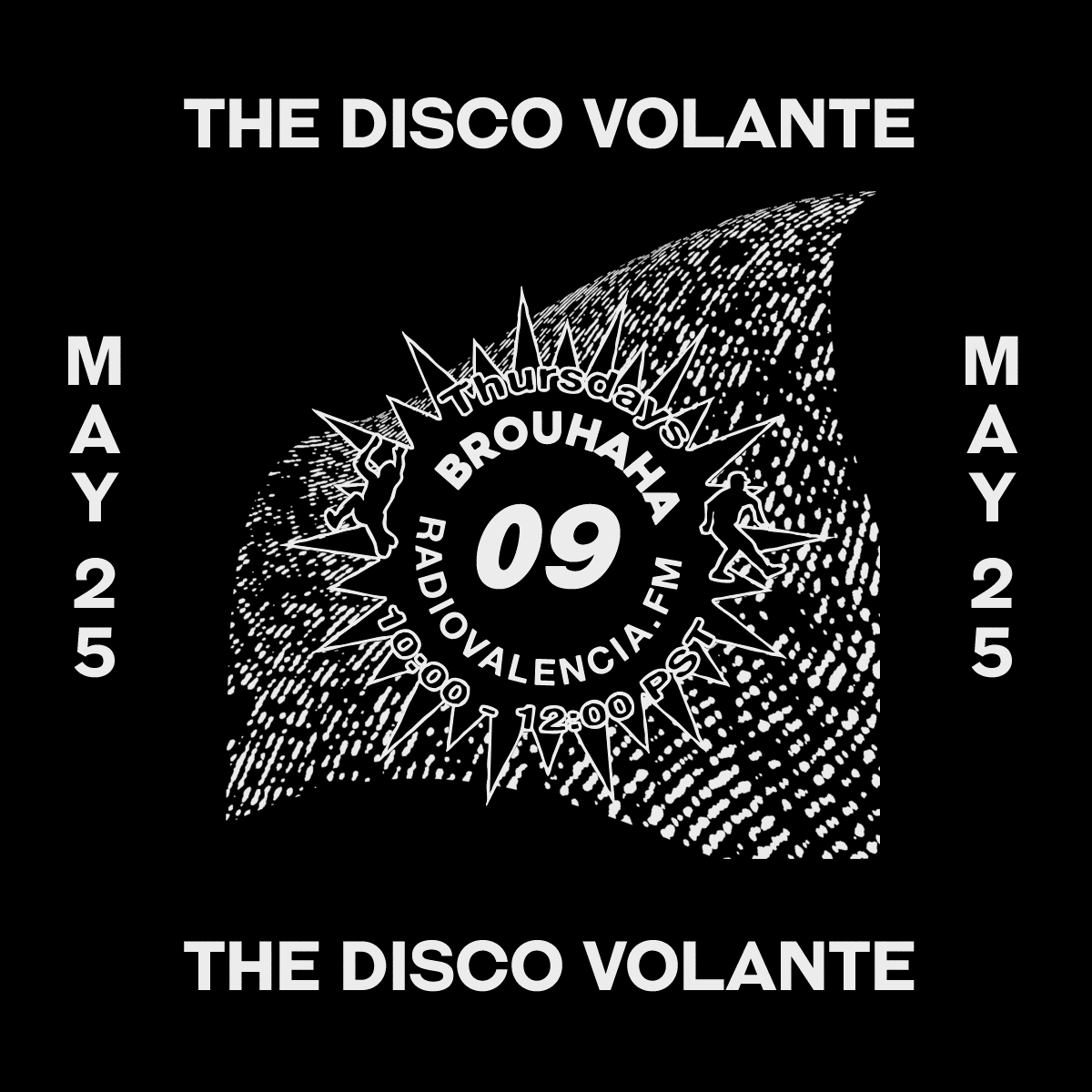 BROUHAHA EP.09 - THE DISCO VOLANTE
May 25, 2017 10:00am
The Disco Volante is brooding in the studio this week. Acid & electro tracks with a percussive backbone.



Tomorrow The Rain Will Fall Upwards - I Beat As I Sleep As I Dream [Blackest Ever Black]
Carrie Cleveland - Love Will Set You Free [LateNightTales]
Mark Ernestus vs Obadikah - April [Honest Jon's]
Gemini - Native to America [Relief]
Alessandro Adriani - I Am a Ghost [Pinkman]
C.L.A.W.S. - Houston, We Have No Problem [Left Hand Path]
Cabaret Voltaire - Kino 4 [Virgin]
Flux - The Value of Nothing [On-U Sound]
TX Connect - Rhythm Implement [Jack Dept]
Laksa - 66 Rebels [Mistry]
Michael Claus - Pacific Aquatics (Sepehr Remix) [Outpost]
Deekay Jones - New York New York [Shaddock]
Sami - Sickos [Future Times]
Maurice Fulton - Revenge of the Orange [Bubbletease Communications]
Cratebug - Brothers Gonna Work It Out Edit
DJ Octopus - Purple Pills [Hotshit Records]
Person of Interest - En Route [Exotic Dance]
Green Velvet - Thoughts [Music Man]
Rødhåd - Vivarium (Porter Ricks Remix) [Dystopian]
Credit 00 - No Future Sound of London [New York Haunted]
Alpha 606 - 808 Trax (Anthony Shake Shakir Remix) [Interdimensional Transmissions]
Secession - Touch (Part 4) [Strut]
Umwelt - Destruction Liberatrice [Return to Disorder]
Lerosa - Slavery [Comp for Andreas Gehm]
Lake People - Level Msk [Uncanny Valley]
Leibniz & Credit 00 - Tom Toms [Rat Life]
Paul Johnson - Tenacious [Peacefrog]
Berserk in a Hayfield - Tease (DV Edit)

---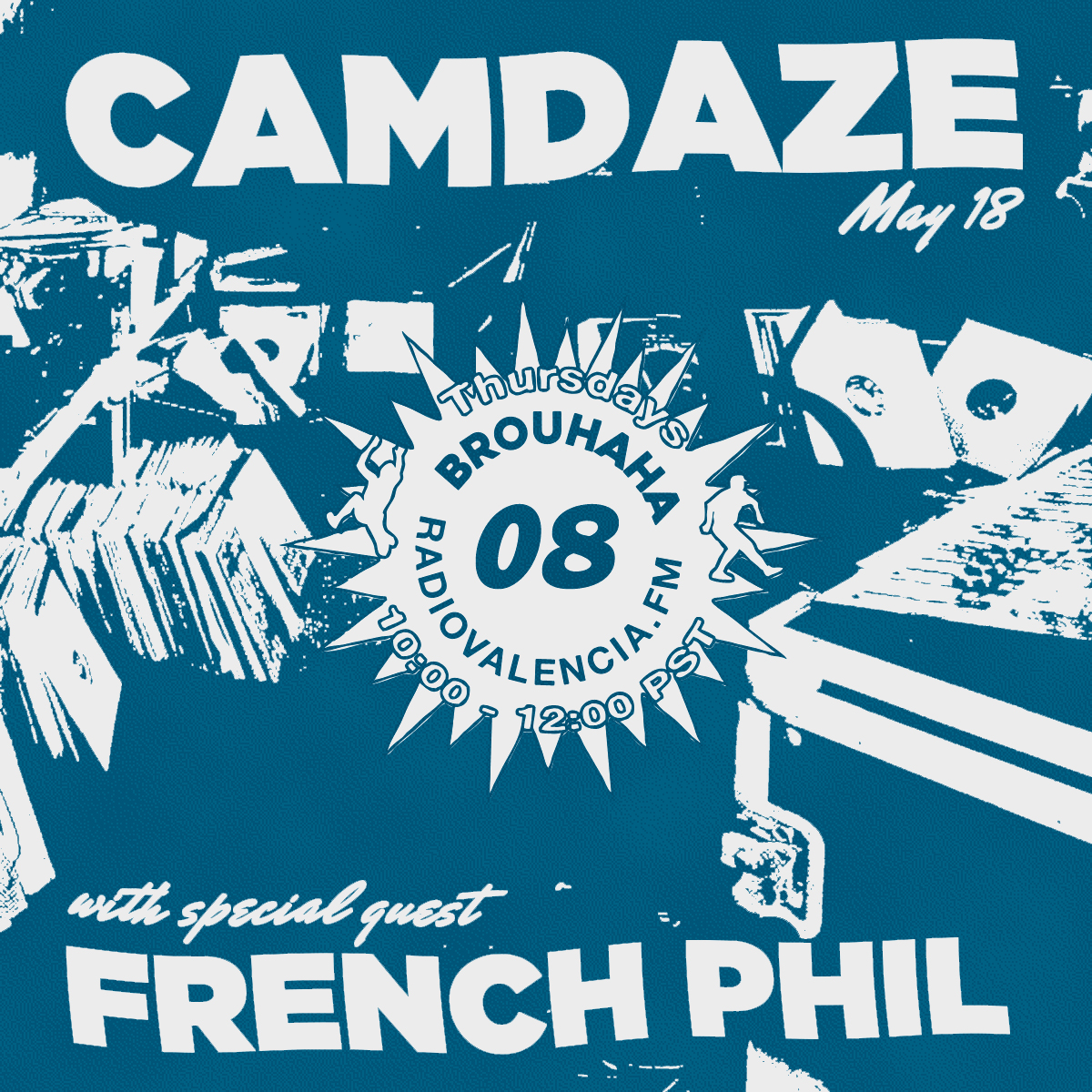 BROUHAHA EP.08 – CAMDAZE & FRENCH PHIL
May 18, 2017 10:00am
It's all jazzy, soulful, & uplifting house vibes this week as Camdaze welcomes our good friend French Phil onto the show.


---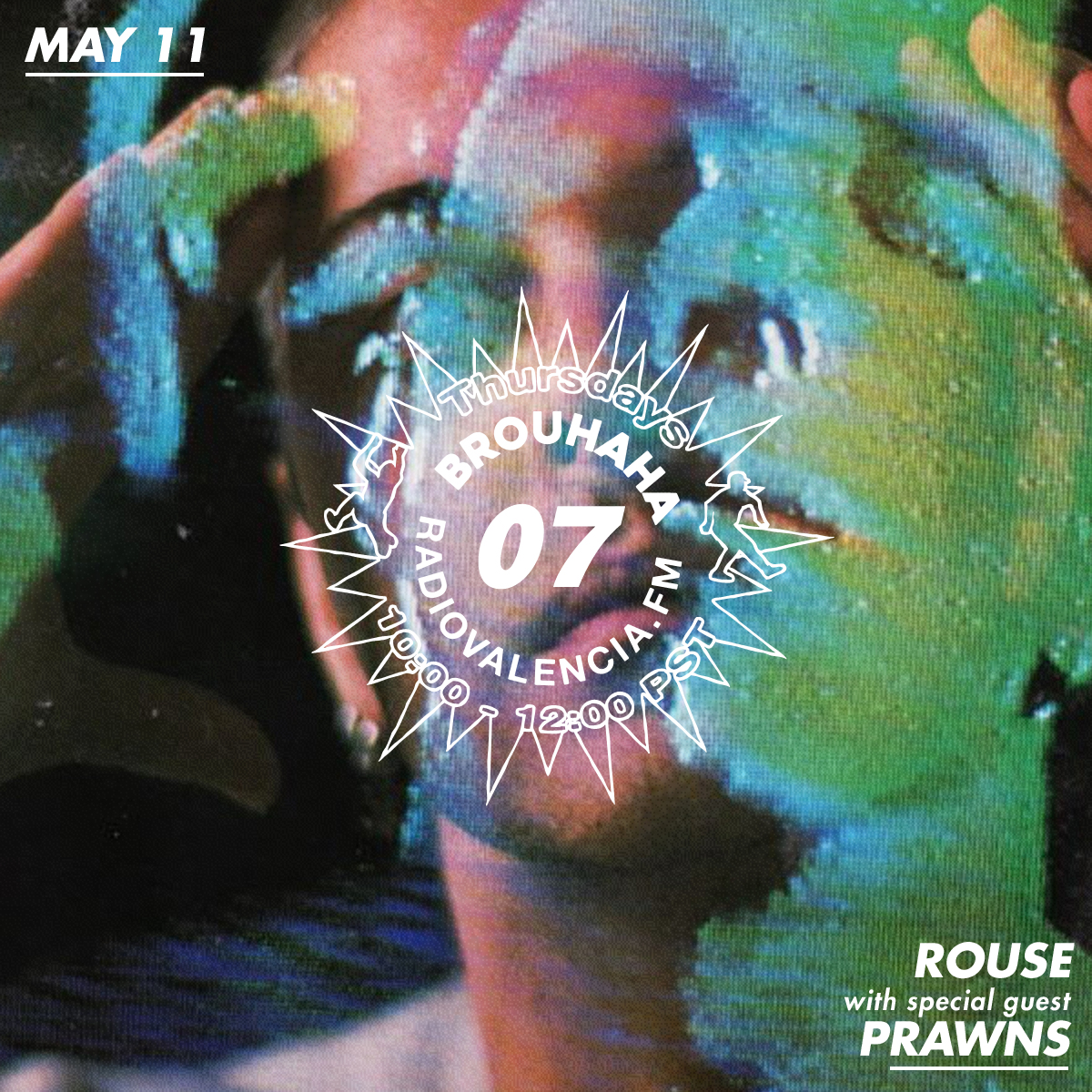 BROUHAHA EP.07 – ROUSE & PRAWNS
May 11, 2017 10:00am
Rouse is plunging into some deep waters this week, and he's brought along the best crustacean DJ we know as co-pilot. You might say he and Prawns take a Heavy Handed approach to this one...

Rouse
Ray of Light 95 - Sage Caswell
State of Mind - Goldie
Breathe - Gaussian Curve
Do Dekor - Jan Jelinek
Sundry - Kaitlyn Aurelia Smith
O-Coast - Overmono
Three Rings - Grizzly Bear
Matariki - LNS
See Yourself - Slacker
Dark Flow (Andres Remix) - Trus'me

Prawns Guest Mix
Lullaby - Urulu
Autumn - Richenel
2poor4change (Hodini remix) - Mr. Fries
Lalime (Dandana mix) - Project Pablo
From a Past Life - Lone
Into the Silly World - Coni
99 Candles - Seven Davis Jr
Repeater - FYI Chris
Clocks - Greymatter
Ar-Ragis (Medlar Remix) - Clap! Clap!
Another One - Fold
Destiny - Interplanetary Criminal
Say It (Baba Stiltz Remix) - Klaves
Worldwide Deluxe Edit - Frits Wentink
Skylark - Ike Release
Fever Dream - Octo Octa
Lefty's Bar (Brame & Hamo) - Fouk
Monk Nash - Rick Sheen
Wopp - Sweely

Rouse B2B Prawns
Get Together (Deep Vocal Mix) - Deep Sensation
Freedom (make it funky) (color 1 on & on strong vocal mix) - black magic
Deal With It - Pendle Watkins
Shoelaces (Acid Instrumental) - Josh Wink
Of All the Places Left to Dance - Tee Mango

---
BROUHAHA EP.06 – DJ PATRICK & WRONG WAY
May 4, 2017 10:00am
DJ Patrick brings Special Xtra guest Wrong Way into the fold, banter ensues. The future present, morning beers, tropical disco, and indescribable oddity contained within.



Shuggie Otis – Freedom Flight
Field Recording #1
Field Recording #2
The Mystic Jungle Tribe – Terraza Sul Mare
Arto Neto – Pini Pini
Salsa Caliente – Meridian Brothers
Manabu Nagayama & Soichi Terada – Walker
Black Booby – I Need Somebody Raw
Some Arthur Russell Edit Heard on a Andrew Weatherall Mix
Alec 'Om' Khaoli – Enjoy It
Mike Francis – Features of Love (Club Mix)
Penny Penny – Shaka Bundu
Bobby Caldwell – Do For Love
Toto – Georgy Peorgy
The Sunburst Band – The Easton Assassin
Plunky & The Oneness Of Juju – Every Way But Loose
Bad Banana – Dancing In San Francisco
Red Snapper – DNI Pro
FCL – It's You (Charles McCloud & Vin Sol Remix)
Unknown Artist – Unknown Track
Wolf Muller – Rudeltanz
Eddie C – La Palette
Ital – Queens
Connie – Funky Lil Beat
Ponzu Island – Super Koto (Andras Fox Mix)
Stone – Girl I Like The way You Move (Dub Mix)

---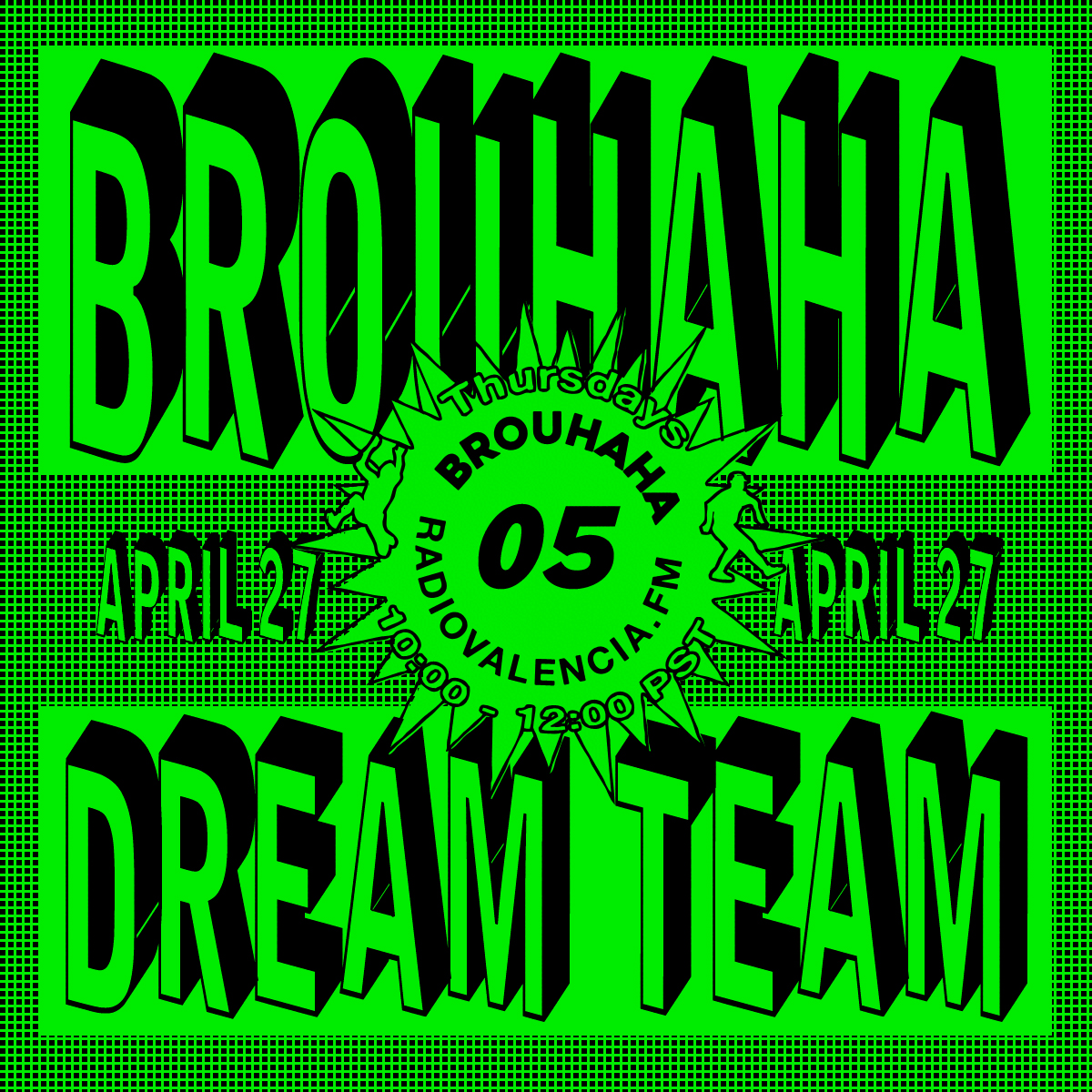 BROUHAHA EP.05 – BROUHAHA DREAM TEAM
April 27, 2017 10:00am
Camdaze, The Disco Volante, & Rouse are going b2b for a special Dream Team episode of your favorite leftfield club radio show. Afro, disco, electro, & acid sounds all thrown up in the most laidback slam dunk contest ever.



Tony Allen – Afro Disco Beat [Vampi Soul]
Pat Thomas – Yesu San Bra [System 77 Productions]
Contours – Loose Wood [Shall Not Fade]
Mystery – Love Dance (Instrumental Dub) [Spirit]
Nuyorican Soul – Mind Fluid (Chemidub) [Nervous]
Tornado Wallace – Kakadu [Music From Memory]
Roza Roza – —————
Sasha – A Key to Heaven for a Heavenly Trance (Night Dubbing Mix) [Limited Underground]
Rhythm Based Lovers – Frequency Illusion [Future Times]
Device Control – Most People [L.I.E.S.]
Eamon Harkin – Are you listening? [Mister Saturday Night]
Ben Houghton – Beta Blocker (Inkswel Drums Dub) [Momentary]
Fatherhood – In Yr Body [Allergy Season]
Hissman – DX Adventure [Dog in the Night]
Fallbeil – The Healer (Innyster Remix) [Mannequin]
Solitary Dancer – Anything [Dark Entries]
DJ Sotofett – Øl på Ibiza [borft]
Lauer – Banned [Live at Robert Johnson]
Groove Assassin – Let's Groove On
Project Pablo – Smudge [Spring Theory]
Michael Claus – Dawn [Jacktone]
Hieroglyphic Being – Azimuthal Equidistant [Mathematics]
Wata Igarishi – Mood of the Machines Pt I [Bunker New York]
Claro Intelecto – Contact [Delsin]
Helena Hauff – c45p [Dark Entries]
Aquarian Motion – The Calling [Voodoo Gold]
Shanti Celeste – Hinoki [Dekmantel]
Mariah – Shinzo No Tobira [Palto Flats]

---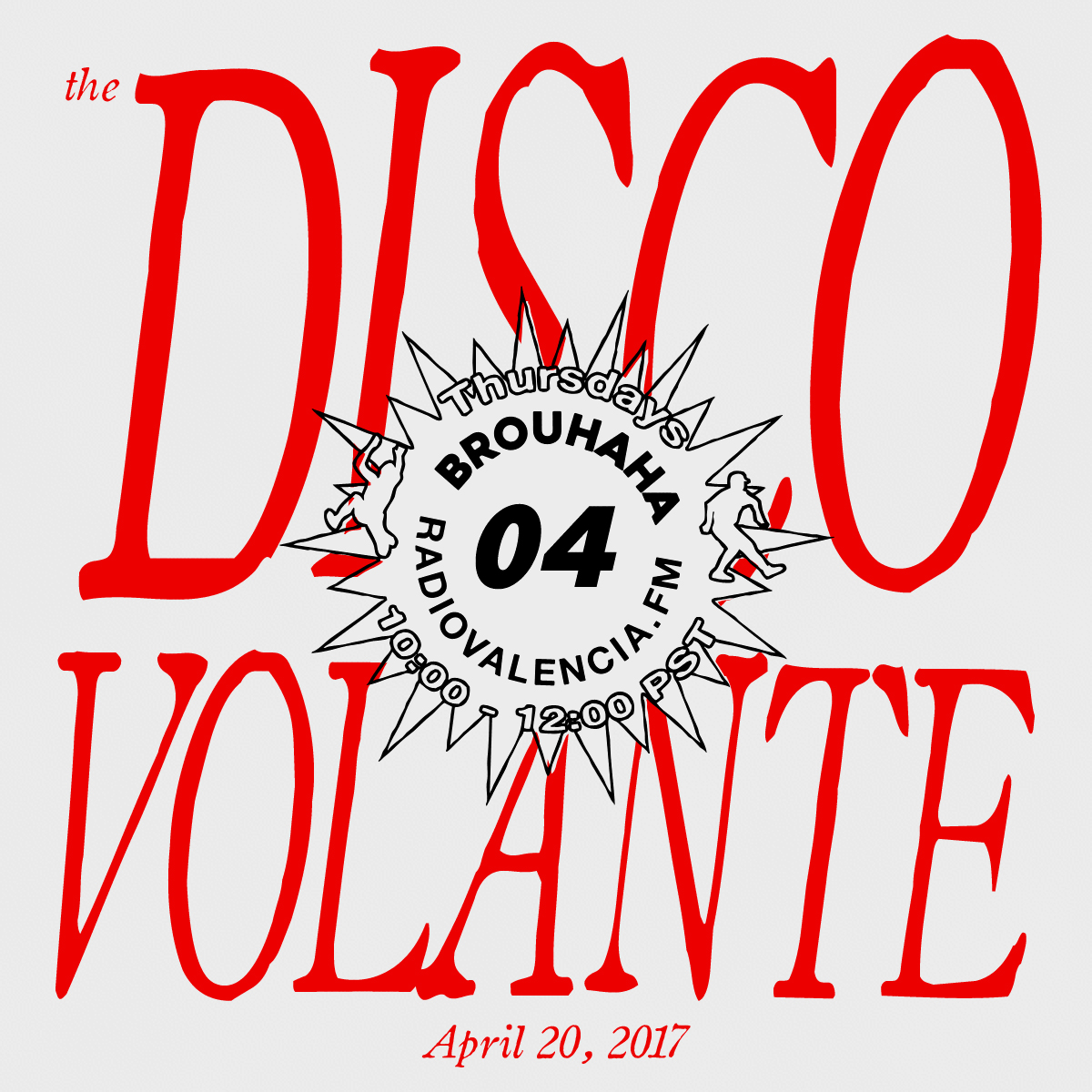 BROUHAHA EP.04 - THE DISCO VOLANTE
April 20, 2017 10:00am
The Disco Volante takes over the controls for a freewheeling space trip through all corners of the Brouhaha cosmos.



Pyrolator – Minimal Tape 3/7.2 [Bureau B]
Jean-Marie Bolangassa – Disna Ngai [Sofrito Super Singles]
Manu Dibango – Soul Fiesta (Chateau Flight Rework) [Versatile]
DJ Katapila – Sakawa [Awesome Tapes From Africa]
Psychemagik – Sun Stepper [Psychemagik]
Anthony Naples – Seello [Proibito]
G String – Seductive Games [Pinkman]
Funky Family – Funky Is On (DV Edit)
Drvg Cvltvre – Meat 3 [New York Haunted]
M & G – When I Let You Down [Dark Entries]
Echo 106 – Choco & Cherry (DV Edit)
DJ Fett Burger – Burger Trip [Mongo Fett]
Jimi Bazzouka – Ye Ye So [Crowdspacer]
OV – Perc Song (Chords) [Future Times]
Russell E.L. Butler – My Cat Is An Asshole [CGI Records]
Michael Claus – Spatial Dub [Neoviolence]
Roy of the Ravers – 2 Late 4 Love [Emotional Response]
5ive & Samo DJ – Some Song Teachers [Public Possession]
Kepler Sound District – Helix [Kepler Sound]
Dego – Could Murder a Burger [Blueberry Records]
Randomer & Hodge – Simple As [Dnuos Ytivil]
Ital – Hellhole [Lovers Rock]
The Durian Brothers – Overexposed Scream Contest [Diskant]
DJ Nervoso – KUIA [Principe]
NHK'Koyxen – 572_2 [PAN]
Matrixxman – Arrival [Dekmantel]
Grauzone – Eisbar (Ilo Edit) [Lo-Fi EdiTS]
Charles Manier – Sift Through Art Collecting People (DV Cut)

---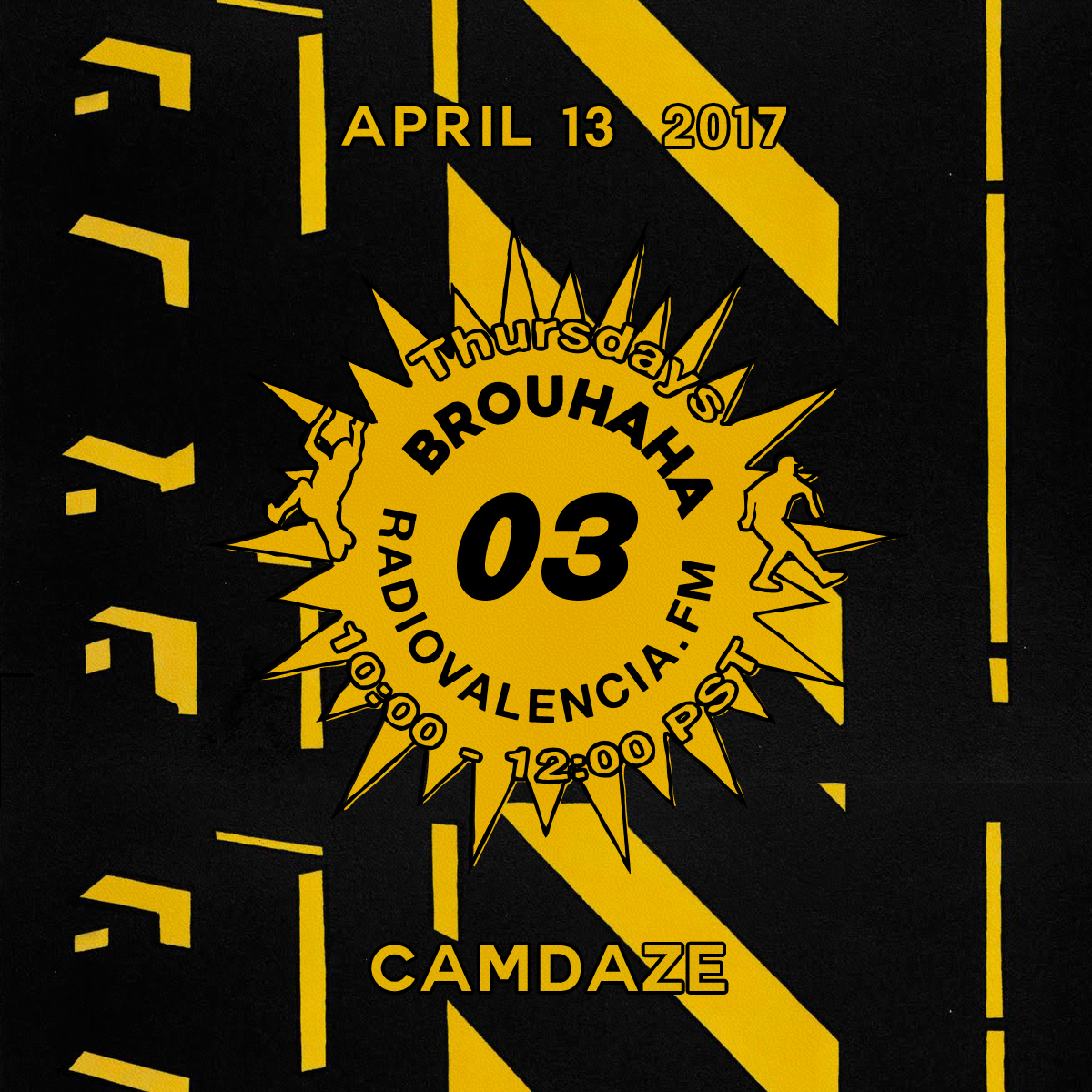 BROUHAHA EP.03 – CAMDAZE
April 13, 2017 10:00am
Camdaze is flying solo this week, guiding us through hazy skies and funky, trippy, organic sounds.

Francis Bebey - Forest Nativity [Hostel La Torre Recordings]
audioJazz - Pretty Lady [audioJazz Music]
Maxmillion Dunbar - Polo [Future Times]
Vin Sol & Matrixxman - Fabric Softener [Soo Wavey]
Cloudface - Devonian Garden [Mood Hut]
Countours - Hands & Feet Dancing [Shall Not Fade]
Masha - The Archivist [S/R]
Serious Intention - You Don't Know (Special Remix) [Easy Street Records]
Gino Soccio - It's Alright (Long Version) [Atlantic]
Kyodai - La Rumba (Genius Of Time Remix) [Freerange Records]
House Of Doors - Burmstar (Flute Mix) [Mood Hut]
Klinte Jones - In The Heat Of The Night [Oh My! Records]
Frits Wentink - Horses In Cornfield [Bobby Donny]
Youandewan - Undrstnd [Hype_LTD]
Youandewan - Our Odyssey [Aus Music]
Sepehr - Outer Space [Neo Violence]
Urulu - Mylar [Kepler Sound]
Garrett David - Remedy [Distant Hawaii]
Seb Wildblood - Mmm [Omena]
FYI Chris - Banana Bread [Lumberjacks In Hell]
Z Lovecraft - 99 Pence Bargain Dub [No Bad Days]
Glenn Astro - Me & My Mouse (Glenn Astro Remix) [Big Bait Records]
Tony Allen - Afro Disco Beat [Vampi Soul]


BROUHAHA on Radio Valencia airs every Thursday, from 10:00am - 12:00pm PST.
Catch the stream on www.radiovalencia.fm!

---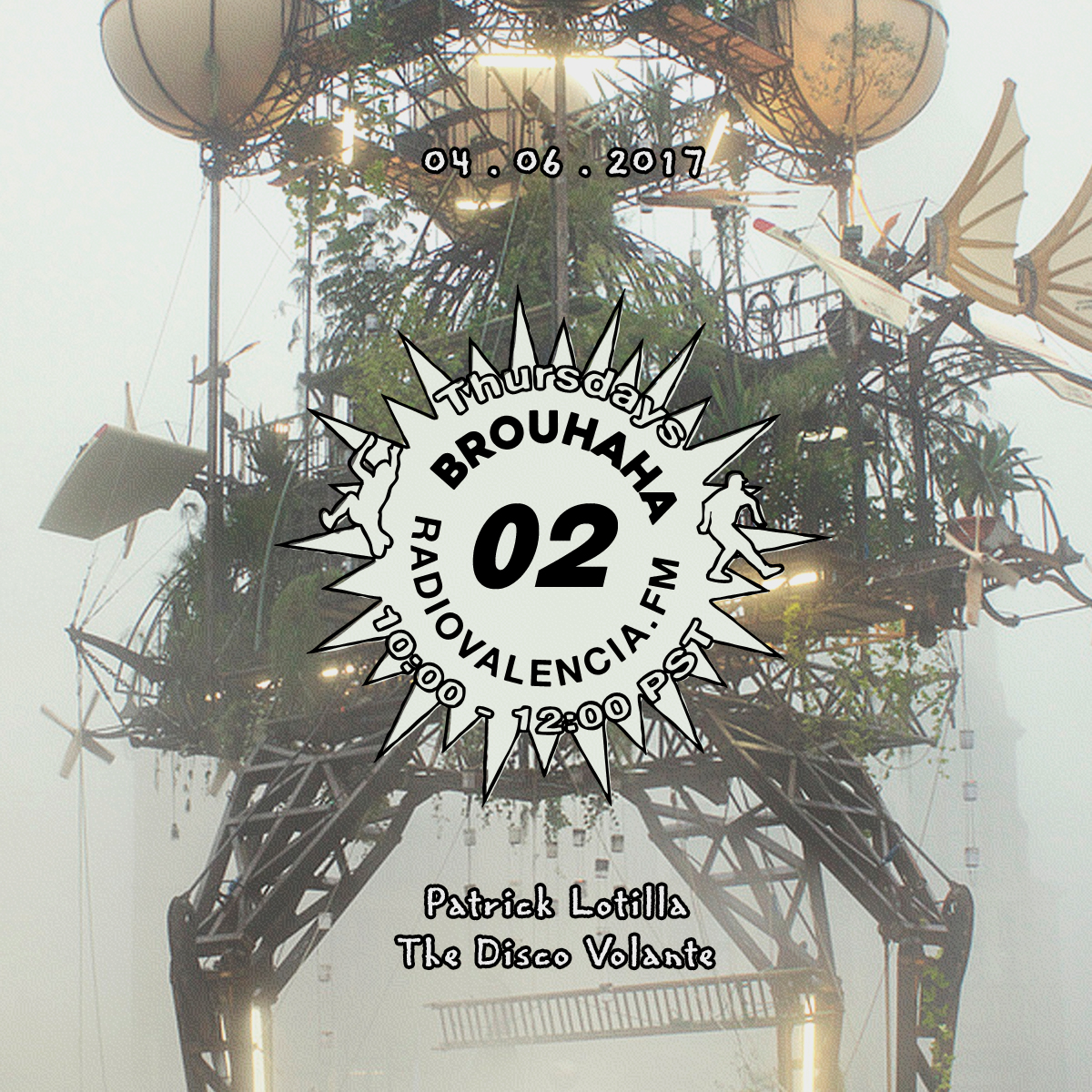 BROUHAHA EP.02 – PATRICK LOTILLA & THE DISCO VOLANTE
April 6, 2017 10:00am
Brouhaha residents Patrick Lotilla and The Disco Volante take over for this week's episode.

First hour DJ Patrick eases some funky disco grooves towards a full-on Paul Johnson megamix.

Second DV takes things into a realm of techno variations.





PATRICK LOTILLA
Helen – Zanzibar (Afro Mix) [Dark Entries]
Fonda Rae – Heobah [Posse]
Persona La Ave – Gloria Miami [Easy Bay]
Al Dobson Jr. – Muscavado Sounds [Rhythm Section International]
Zanzibar Chanel – Ass (Patrick L Edit)
DJML – DDD-2 [FTD]
Michael Claus – Data Retrieval Process [Outpost]
I:cube – Un Proton Pour Toi, Un Neutron Pour Moi [Versatile]
Sage Caswell – Dyc [Spring Theory]
Paul Johnson – Play Those Drums [Warehouse]
Steve Poindexter – Work That Motherfucker (Paul Johnson Remix) [ACV]
Paul Johnson – Love Feeling [Chicago Underground]
Paul Johnson – Let Me See You Butterfly [Dance Mania]
Serge & Alden Tyrell – House Countdown [Clone Jack for Daze]
Paul Johnson – I Like To Get Down [Bosconi]
Mousse T – More I Get [Peppermint Jam]
Chrissy – Can't Get Me Down [Forthcoming Cool Ranch]

THE DISCO VOLANTE
Russell EL Butler – A New Day [CGI Records]
Roche – Sonic Expressions [Mathematics]
Nackt & Michael Claus – Grey Skies [Outpost]
Cocktail Party Effect – Dried Branches [New York Haunted]
Tom VR – A Fantasy [All My Thoughts]
Objekt – Theme From Q [Objekt]
DJ Deep – Surge [Deeply Rooted]
Gunnar Haslam – Scale No Flam [Bunker New York]
Alpha 606 – Armambo DV EDIT
Joe Claussell – Je Ka Jo (Demo Version) [Ibadan]
Aurele – Dinguzer







---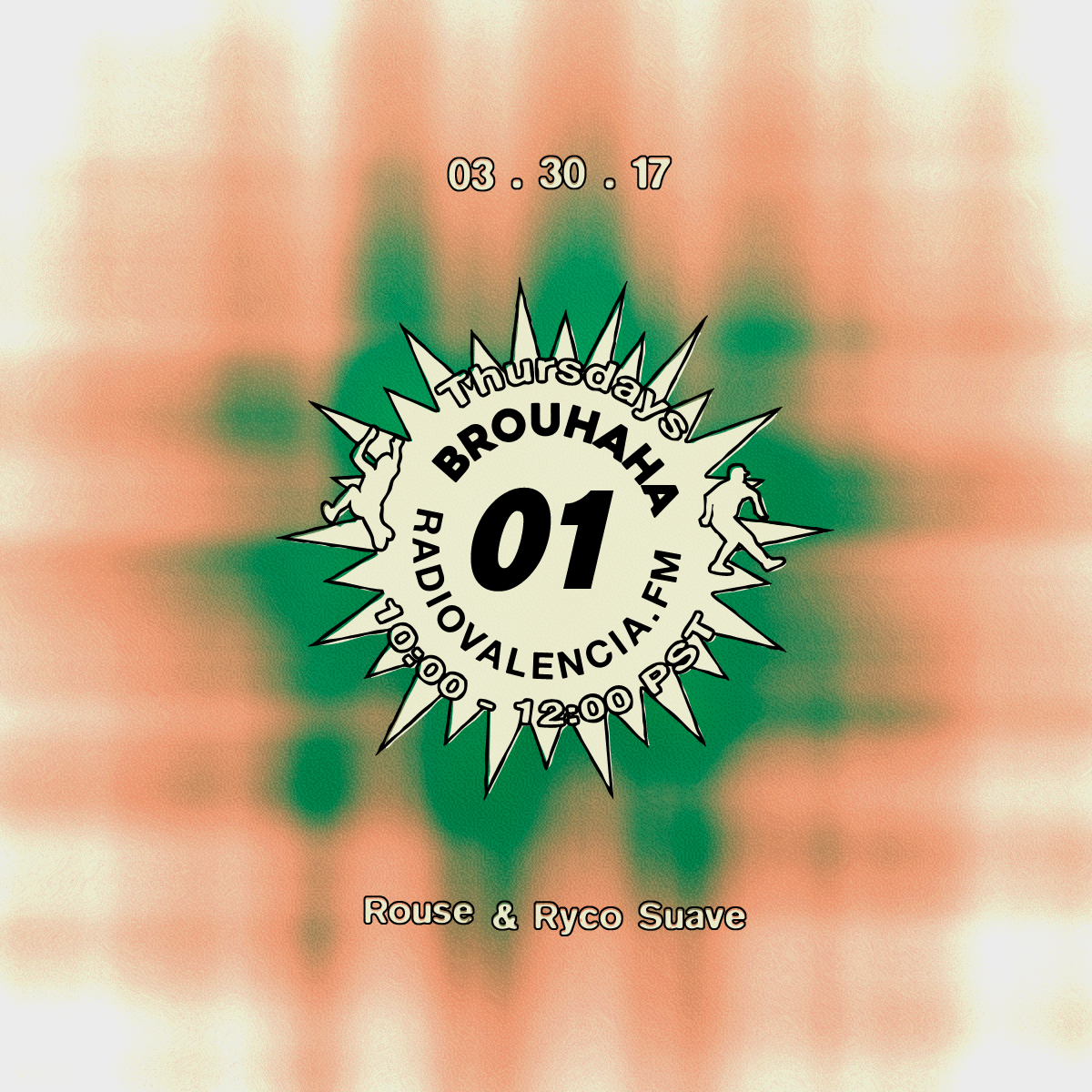 BROUHAHA EP.01 – ROUSE & RYCO SUAVE
March 30, 2017 10:00am
Rouse kicks off the show with a set of ambient techno and padded breaks.

Later on, he leads into Ryco Suave's debut DJ set.

Who is Ryco Suave? Let's just say ya already know.

* * *

ROUSE
Now Now Now – Problem (Abyss Version) [Safe Trip]
Edmondson – Flamingo Tripper [Lissoms]
Sepehr – Outer Space [Neo Violence]
Fantastic Man – Rhythm Algorithm [Superconscious Records]
Look Like – Unknown LQH [Mistress]
Octo Octa – Fleeting Moments of Freedom (Woo) [HNYTRX]
Matrixxman – Bad Acid [Dekmantel]
Nackt & Michael Claus – Grey Skies [Outpost]

RYCO SUAVE
Wayne Snow & Max Graef – Rosie (Nu Guinea's Paradise Remix) [Tartelet Records]
Retrospective for Love – Let me know (Seb Wildblood Remix)
Tom VR – A Fantasy [All My Thoughts]
David & Hjalti – Moods [Lagaffe Tales]
Michael Claus – March 22nd [Jacktone]
Grant – Cliché [Lobster Theremin]
Hi Mount & Man-Dee – Impresionante [Regelbau]
Speed Boat – Speed Tool 001 [Nail Shop]
Bruce Trail – Ruff Cut [Self-Released]
Octo Octa – Move On Let it Go (De-Stress Mix) [HNYTRX]

ROUSE B2B RYCO SUAVE
Electric Sound Broadcast – Sole Eterna [Echovolt Records]
Algorythm – LFO [Neptune]
Strip Steve – Finally a good jam with the new sequencer
Robert Owens and Hugo – You Are (Efdemin remix) [Murmur Records]
Music People – Always On (Club Mix) [Mood Hut]
DJ Groov – Back To [1Ø PILLS MATE]
Qnete – I Might Be Wrong [Lobster Theremin]
Johannes Albert – MS Zufriedenheit [D.KO Records]
Medlar – Imaginary Dub [For Discos Only]
Those guys – Tonite [MCA Records]

---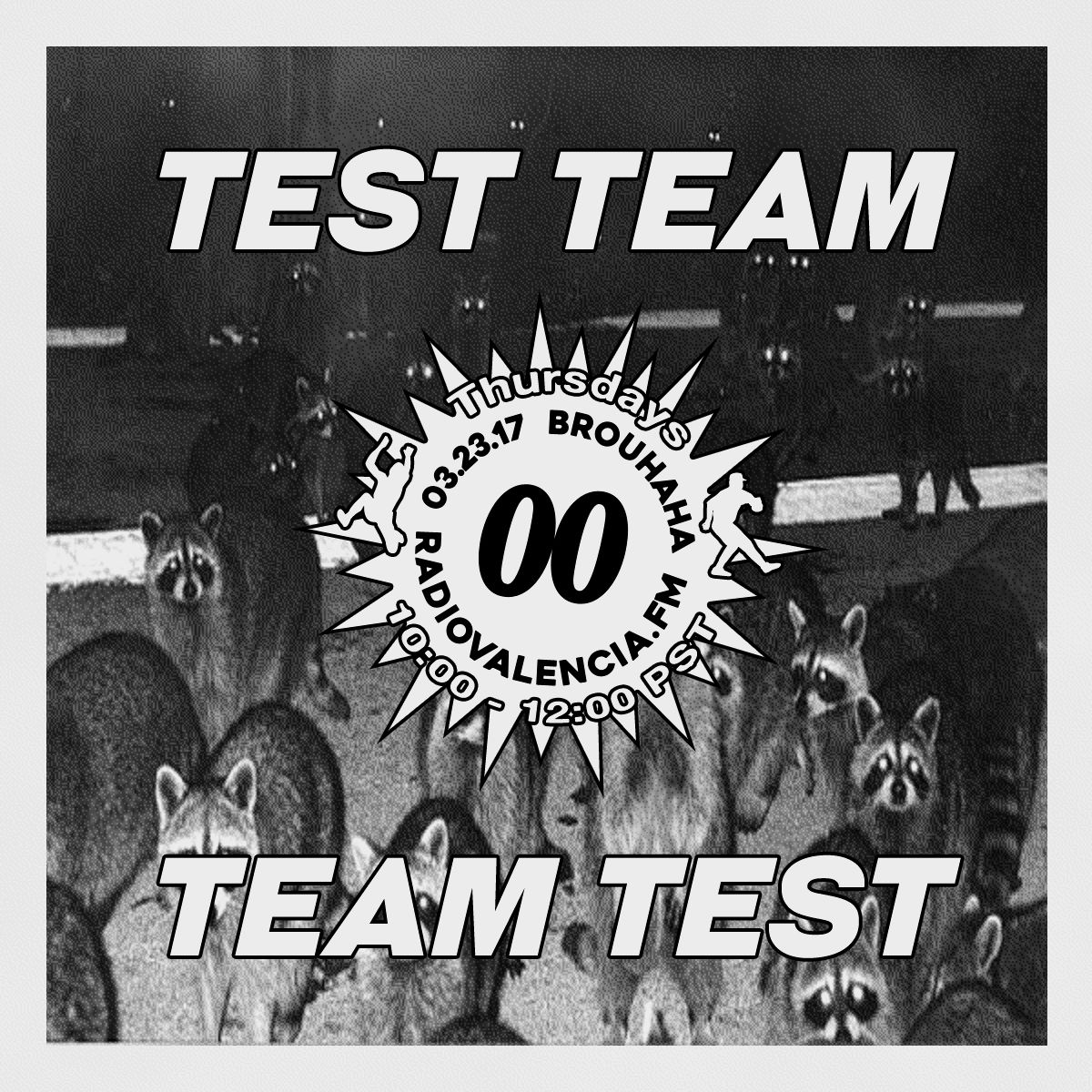 BROUHAHA EP.01 – TEST TEAM
March 23, 2017 10:00am
Right outta the gates, it's a crowded decks crew showdown~!

Brouhaha residents The Disco Volante, Rouse, Camdaze, & Rycta taking turns in the mix.