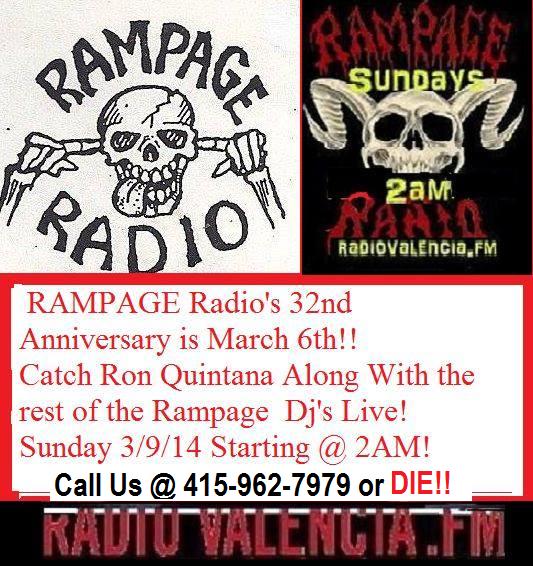 Rampage Radio
Rampage Radio - 32nd Year Anniversary w/ Ron Quintana 3/9/14 - Part 2 (6am to 8am)
March 9, 2014 @ 6:00am
Rampage Radio - 32nd Year Anniversary w/ Ron Quintana 3/9/14 - Part 2 (6am to 8am)
with Ron Quintana, Dj SwampLord, Verne Inhel, The Mighty Zee, the LastAngry Manny & Father Featherstone (with the Prophet of Doom & Rev. Boom King in spirit)


"many people may have started turning the radio dial to see what else was on. Those people found a radio show that sounded like a real account of an alien attack. The show did issue a disclaimer at the beginning of the show, but the people tuning in late did not hear that announcement and so a small panic did occur"

Abandon All Hope Ye Who Enter Here:
https://www.facebook.com/groups/68964202891
OR Here:
https://www.facebook.com/RampageRadioSF


6:01am: Be My Slave by Bitch

6:07am: Bite Your Head Off by King Parrot

6:15am: Sales Of Charon (by request) by Scorpions

6:33am: Die by the Sword by Slayer

6:36am: The Last Judgement by Trouble

6:42am: Leather Face by Dope Body

6:46am: Hey Man by Hank Williams iii

6:48am: I\'m Not A Serial Killer by I\'m Not Stanley

6:50am: My Family Is A Little Weird by M.D.C.

6:52am: Incurable Illness by Meth Drinker

6:56am: Night Of The Living Bass Heads by Public Enemy

7:00am: State Of No Return by Om

7:06am: Practicing Pat by David Firth

7:08am: Mary Had A Lil Drug Problem by Scratch Acid

7:11am: Live by The Locust

7:14am: Video Dating by David Firth

7:16am: Caged Bird by The Victims Family

7:21am: Krell by Blood Of Kings

7:24am: Never Trust A Monkey by Brack

7:25am: Money Talks by Cryptic Slaughter

7:29am: Don\'t Touch Me by Brak

7:33am: Chapel of Ghouls by Morbid Angel

7:45am: Evil by Steve Costello

7:49am: InstruMetals by Rampage Radio

Originally conceived by KUSF DJs Ron Quintana, Ian Kallen & Howie Klein,
RAMPAGE RADIO has been assaulting the airwaves with metal and other noise on a weekly basis ever since its official birth on Sunday, March 6th, 1982.