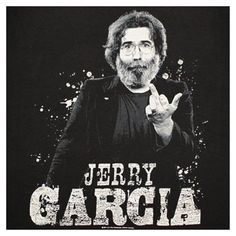 A Season in Hell
Hell's Kitchen Radio #269: Eagle Wing Palace of the Queen Chinee
August 8, 2016 @ 8:00pm
My musical tastes are anything but conventional, and I think that should be the norm. I was raised by a father who loved Chicago blues, and was also around two older sisters who were into the popular rock of the 70s. My first favorite band was KISS, followed by the Beatles a few years later, and then Led Zeppelin. I've written at length about my introduction to the Grateful Dead, and my subsequent love affair with them. My 25+ years in non-commercial radio has introduced me to too many genres to count, and it's just as common to hear me play the Melvins on my show as it is James Brown.

For my most recent show I wanted to pay homage to the musician who made the deepest impact on my musical soul: Jerry Garcia. I don't love every one of his songs, and I cannot stand his voice after 1982. It was the deep spiritual, true American message that most resonates with me. It's because of Jerry's love of American musical history that encouraged me to dig deeper than what was commonly offered up on mainstream radio. I think it's safe to say Jerry Garcia is one of the main reasons I chose a life of left-of-the-dial radio.

Tonight's selection runs from early raw-Dead, to some screaming jams. Take a dive and enjoy the ride.

Enjoy.

jh

China Cat Sunflower/I Know You Rider: Grateful Dead (11-14-73 San Diego Sports Arena)

Samson and Delilah: GD (10-10-80 Warfield Theater, SF)
Candyman/Cumberland Blues: GD (05-02-70 Harpur College, Binghampton, NY)
It Hurts Me Too: GD (05-19-66 Avalon Ballroom SF)

Hard To Handle/Cosmic Charlie: GD (04-05-69 Avalon Ballroom, SF)
Bob's Dog Story/Bertha: GD (04-14-72 Tivoli Concert Hall, Copenhagen, DK)

Help-Slip-Franklin's Tower: GD (06-09-77 Winterland, SF)
Loving Man: GD 1969 Pigpen/Bobby/Jerry demos

Beat it on Down the Line: GD (02-24-74 Winterland Arena, SF)
Friend of the Devil: GD (07-07-78 Red Rocks, Morrison, CO)

Promised Land: GD (12-26-79 Oakland Arena)

August 9th is the 21st anniversary of the passing of Jerry Garcia. I wrote the following on my Facebook page earlier today:

I was waking up listening to Ann Arbor on KFJC when I heard that Jerry had passed. Actually I hit the snooze button, but something in her tone that I briefly heard made me turn the radio right back on. Sad doesn't put it quite right. I was full of anguish for the next number of days. I knew it would eventually happen, I just didn't think it would happen so soon. I called my friends Nichole and Zion to see how they were faring. I think it hit us all like a ton of bricks. Zion's mother came to town a few days later and we all went to the Jerry memorial in GG Park. She told us some amazing stories of touring. She told us she had never been to a Grateful Dead concert before and wanted to go to the middle of the crowd, which I know made Zion nervous.
About 30 or so minutes into it a tall, lumbering hippy came through the crowd and walked right up to us. He looked at Zion's mother and said in his sprite southern accent "Donna Jean?! Why, I haven't seen you in a coons age." He then looked at Zion, and said "why you're the spittin' image of your old man.", which he is. They spoke for a while and then he (his name is Sunshine) said so long, and walked off. At that moment people around us started to kindly say hello to Donna and show their love. If there was ever a bitter-sweet day, it was that one.
That moment reminded me that even without Jerry physically being present anymore, he doesn't need to be for all of us to still feel his presence and what he and his musical message means to all of us who took the time to listen and embrace it. To mourn his passing, even after 21 years, is to fail to see that as long as we sing his songs, then we still sing his praises.
I don't know what happens to us when we die, but I do know that as long as I live I'll continue to enjoy what Jerry brought to my life, with a smile on my face, the same as when Sunshine saw Donna and Zion as he tripped his way through the fields. Take pleasure in what you have now, and share the love as you go.

There are a few great Grateful Dead-related events happening in San Francisco this weekend. I hope you can make them all.

Thursday, August 11 - 7-8:30PM - Deadheads: Book reading/signing with author Linda Kelly
Excelsior Library 4400 Mission Street at Cotter
Come down and hear author Linda Kelly read from her book. You can buy a book-themed trucker hat too!

Saturday, August 13 - 8PM-2AM - Pre-Jerry Day Dance Party with John Hell
Doctor's Lounge 4826 Mission Street in the Excelsior District
In association with Jerry Day 2016, will host a Grateful Dead dance party in a pre-celebration of Sunday's 14th annual Jerry Day.

Sunday, August 14 - 10:30AM - Jerry Garcia Plaque Unveiling
4550 Mission Street at Harrington Street
The first Jerry Garcia plaque is finally being forged, and we're going to have an unveiling celebration the morning of Jerry Day! Join us at the corner of Mission and Harrington Streets, and then we can all head up to Jerry Garcia Amphitheater to celebrate!

Sunday August 14 - 11AM-6PM - 14th Annual Jerry Day @ Jerry Garcia Amphitheater in McLaren Park
From the website: Jerry Day is a civic and cultural event that celebrates one of the greatest rock guitarists of all time and San Francisco native son – Jerry Garcia. This event captures the true spirit of Jerry Garcia as we celebrate his legacy, the Jerry Garcia Amphitheater, and recognize his childhood roots from the Excelsior District of San Francisco. By uniting the diverse communities of San Francisco through Jerry's music, we are creating something extraordinary for Jerry's childhood neighborhood – the Excelsior District, McLaren Park, and the City and County of San Francisco.

I sure hope to see you all at some or all of these upcoming events. Have a grateful week.