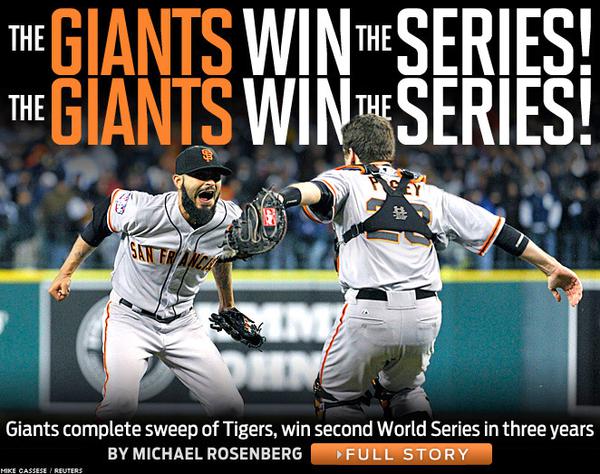 A Season in Hell
A Season in Hell #109: John Hell Wins the Pennant!
October 29, 2012 @ 8:00pm
I'm 3-0 in broadcasting when the Giants win something big! Yay me! And yay to the San Francisco Giants for sweeping the highly favored (for some unknown reason) Detroit Tigers.

I just got back from a great weekend in Portland, Oregon. This town is like San Francisco North, but the people are all really friendly...and white. Where are all the people of color at? I mean really, this is one white town.



I was also expecting a lot more Portlandia-like experiences. I was a bit disappointed. Where the quirkiness? Where are Fred and Carrie? I did drink my fair share of local beers though. So tasty. I recommend you hit up Bailey's Tap Room. They have 20 of the finest west coast micro-breweries on tap. That was a joyous night, I tell you.

We also spent quite a few hours at the nations largest independently owned book sore, Powell's. It's city block large. DAMN! So many books. It heavenly and a bit overwhelming at the same time.

Being a music junkie I had to hit up the local record stores. I was happy to find Jackpot records and there ever so fine collection of new and used vinyl. I can buy pretty much everything I've ever wanted at Aquarius and Amoeba. The great thing about visiting music towns is the opportunity to find local music that I cannot find at home. My trip was fortuitous. I found this ripping LP from a Portland band, Wizard Rifle. Damn, they are loud. LOVE IT! I played them tonight, so be listening for them. I also found a double 10" of a 2012 Ty Segall Band release, "Slaughterhouse", which I've never heard of, nor seen. Thanks Portland, and thanks to Jackpot Records, a local Portland record label and store.

And the rain. Did I mention the rain? It rained a lot. A lot. Really, a lot.

I played a few songs in tribute to Hurricane Sandy, because I could. I did not play anything in the memory of a longtime friend and collaborator, Paul Addis, who chose to take his life last Saturday night by jumping in front of a BART train in SF. I'll save that for when I have my head better wrapped around it.

Enjoy

jh

Do It: Rollins Band
Lonesome Train: Robert Gordon w/Link Wray
Stormy Weather: Jimmy Luxury

???: The Hooded Fang
Rebel Without a Pause: Public Enemy
General Hospital/Blue Flowers: Dr. Octogon

Diddy Wha: Ty Segall Band
Save Yourself: Hemi
Let's Get Funky: Jack O'Fire

Tears Won't Soften Steel: Wizard Rifle
Akuma No Kuma: Boris and Sunn)))
White Light/White Heat: Lou Reed

Shame Shame Shame: Bryan Ferry
Soul Rebel: Bob Marley
Water No Get Enemy: Fela Kuti

Down, Down, Down: Tom Waits
Desert Blues: Leon Redbone
The Fat Lady of Limbourg: Brian Eno

Hey Hey My My: Neil Young and Crazy Horse (Hollywood Bowl 10-17-12)
Stormy Monday: Allman Brothers Band (Fillmore East, February, 1971) - Going out to our friends and family surviving the ravages of Hurricane Sandy and the Frankenstorm!